Hint

A Hint Ring from Sonic Colors.
Statistics and Overview
First appearance
Other appearances
User(s)
Purpose

Helping the player

Description

Orb of light, Omochao, question mark with rainbow ring.
Hints are helpful advice given to the player during gameplay. The kind of advice given varies depending on the location. They give the player useful information to help you in situations such as an obstacle or a new gameplay feature.
List of Hints Types
Hint Orbs
First and only appearing in Sonic Adventure, the Hint Orbs were floating red and white sphere of light that hover just above the ground. On contact they will circle the character as it gives advice to the situation the hero has to overcome. Sometimes Knuckles will find a Hint Orb which will show him exactly where the piece of the Master Emerald is located.
The Hint Orb is also Tikal's spiritual form. Evidence is that the voice of the Hint Orb is her own and when Perfect Chaos threatened to destroy the world again, she appeared to Sonic as a Hint Orb before her regular appearance.
Hint Boxes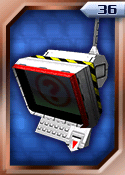 Floating computer monitors that give you information. Unlike Hint Orbs they stay in place but won't activate by touch, instead they are meant to be talked to (by pressing the Action button when close to one).
They first appeared in Sonic Adventure, but mostly in the Adventure Fields. Hint boxes are interacted like with any other NPC.
They appear again in Sonic Adventure 2 giving clues to Knuckles or Rouge on where the treasure is hiding usually in a riddle form at a cost of points. They could be given up to three hints. In 2-player Emerald Hunt games the use of Hint Boxes is limited and only time-by-time.
While not an official appearance, Hint Box could of been inspired from "Cheat cards" seen in Sonic World from the game Sonic Jam.
Omochao
Omochao is a robotic chao with a propeller on its head. Its name is a portmanteau of the Japanese word omocha, meaning "toy", and Chao. He replaces the Hint Orbs in Sonic Adventure 2 dispensing a variety of advice. Omochao also had other uses such as a being used as a throwing weapon to sometimes humorous results. Omochao can also be attacked (whether it's accidentally misfiring or purposely) and will say quotes like "That hurt!" or "I'm not gonna help you any more!".
Hint Ring
Hint Rings appeared for the first time in Sonic Heroes. On contact, the playing character or companion (or sometimes even a narrator) will tell advice for the situation. The Hint Ring originally was a question mark centered in a rainbow colored sphere. But later series became a golden question mark with colorful orbs circling it vertically. However, the more hints the player asks for, the lower their score is. These rings don't appear on any stage on the Hard Mode, but one hint ring strangely appears in one of the areas of Frog Forest throughout the mode.
Also in Shadow the Hedgehog the hints markers in Expert Mode are found once at the beginning of every level and only offer good luck. No other hint markers are offered in Expert Mode. In Sonic the Hedgehog (2006), Hint Rings appear, looking exactly as the ones from Sonic Heroes. Hint Rings also appear in Sonic Unleashed. When activated, Chip will give advice concerning where the player is. They also appear in Sonic Colors, with Tails giving the hint. They are found mostly in Tropical Resort, and explain to the player how to use Wisps. In the DS version, Tails explains to the player how to use Wisps. It should be noted that Hint Rings did not appear in Sonic Generations due to Omochao serving as their replacement, but they reappear in the Nintendo 3DS version of Sonic Lost World. In the game, many hint rings are seen in the tutorial act of Windy Hill.
Gallery
Sonic the Hedgehog (2006)
---
Main article | Gallery
Playable characters
Sonic (Super Sonic) | Tails | Knuckles | Shadow (Super Shadow) | Rouge | Omega | Silver (Super Silver) | Blaze | Amy
Other characters
Accordion Player | Adrianna | Alan | Alessio | Alfano | Anna | Antonio | Aristo | Berruni | Bishop | Claudia | Dante | Dr. Eggman | Duchess of Soleanna | Duke of Soleanna | Elkan | Frances | Francesca | G.U.N. soldier | Galienna | Gina | Hatsun | Herman | Iblis | Ladies-in-waiting | Liza | Lord Regis | Mancini | Mephiles | Mikhail | Monica | Nicolo | Paganini | Parr | Pele | Pietro | Pinto | Porta | Priest | Princess Elise the Third | Prodi | Pucci | Puccini | Renzo | Alberto Robert | Roberta | Rossi | Sabrina | Sandro | Solaris | Soleanna Royal Guards | Solomon | Sonic Man | Sophia | Ken Williams | Zof
Enemies
Egg Armor | Egg Bomber | Egg Buster | Egg Cannon | Egg Chaser | Egg Commander | Egg Flyer | Egg Guardian | Egg Gunner | Egg Hunter | Egg Keeper | Egg Lancer | Egg Liner | Egg Rounder | Egg Searcher | Egg Stinger | Egg Sweeper | Egg Walker | Giant Shadow variant | Iblis Biter | Iblis Golem | Iblis Taker | Iblis Taker counterpart | Iblis Worm | Iblis Worm counterpart | Shadows | Stalker | Titan | Yellow Egg Gunner variant
Action Stages
Wave Ocean | Dusty Desert | White Acropolis | Crisis City | Flame Core | Radical Train | Tropical Jungle | Kingdom Valley | Aquatic Base | End of the World
Town Stages
Castle Town | Forest | New City
Town Missions
Sonic
1 | 2 | 3 | 4 | 5 | 6 | 7 | 8 | 9 | 10 | 11 | 12 | 13 | 14 | 15 | 16 | 17 | 18 | 19 | 20
Shadow
1 | 2 | 3 | 4 | 5 | 6 | 7 | 8 | 9 | 10 | 11 | 12 | 13 | 14 | 15
Silver
1 | 2 | 3 | 4 | 5 | 6 | 7 | 8 | 9 | 10 | 11 | 12 | 13 | 14 | 15 | 16 | 17 | 18
Bosses
Egg-Cerberus | Egg-Genesis | Egg-Wyvern | Iblis | Mephiles | Shadow | Silver | Solaris | Sonic
Moves/techniques
Arrow of Light | Accelerator Tornado | Attack | Blast Jump | Bomb | Bomb Snipe | Bound Jump | Chaos Attack | Chaos Boost (Chaos Blast, Chaos Lance, Chaos Snap) | Chaos Spear | Climb | Custom Actions (Gun Drive, Homing Smash, Mach Speed, Scale, Slow, Thunder Guard, Tornado) | Double Jump | Dummy Ring Blitz | Dummy Ring Bomb | Dummy Ring Snipe | Fire Claw | Fly | Grab All | Ground Shaker | Hammer Attack | Heart Mine | Hold Smash | Hover | Invisibility | Levitate | Light Dash | Lock-On Shot | Omega Launcher | Omega Shot | Psychokinesis | Psycho Shock | Psycho Smash | Punch Attack | Screwdriver | Shield of Light | Sliding Attack | Spear of Light | Spin Dash | Spin Jump | Spin Kick | Spinning Claw | Teleport Dash | Turbo Boost
Items
Chaos Drive | Container (Blue crate, Explosive crate) | Goal Ring | Item Box (Gauge Up, Super Ring, Shield, Invincibility, Extra Life) | Key | Light Core | Mechanical Ring | Medal | Pulley | Rainbow Ring | Ring | Silver Sphere | Spring | Star Post | Snowboard | Switch | Vine | Wide Spring
Level Up Items
Air Chip | Antigravity | Blue Gem | Bounce Bracelet | Gems | Green Gem | Heart of Wind | Light Chip | Memory Shard (black) | Memory Shard (blue) | Memory Shard (red) | Power Bracelet | Purple Gem | Red Gem | Shock Bracelet | Single-Layered Extreme | Sky Gem | White Gem | Yellow Gem
OST
All Hail Shadow | Dreams of an Absolution | His World | My Destiny | Sweet Dreams AKON Mix
English voice actors
Jason Griffith (Sonic, Shadow the Hedgehog) | Pete Capella (Silver the Hedgehog) | Lacey Chabert (Princess Elise) | Mike Pollock (Dr. Eggman, Narrator) | Amy Palant | (Tails, Ladies-in-waiting) | Lisa Ortiz (Amy, Ladies-in-waiting) | Bella Hudson (Blaze) | Dan Green (Knuckles, Mephiles, Solaris Project scientists) | Kathleen Delaney (Rouge) | Maddie Blaustein (Omega) | David Wills (Duke, G.U.N communitcator)
Japanese voice actors
Jun'ichi Kanemaru (Sonic) | Kōji Yusa (Shadow) | Daisuke Ono (Silver) | Maaya Sakamoto (Princess Elise) | Chikao Ōtsuka (Dr. Eggman) Kenji Utsumi (Narrator, Duke) | Ryō Hirohashi (Tails) | Hikari Yono (Ladies-in-waiting) | Nao Takamori (Blaze) | Nobutoshi Kanna (Knuckles) | Takayuki Sakazume (Mephiles) | Keiji Okuda (Solaris Project scientist, G.U.N. communicator) | Yoshikazu Kozuma (Solaris Project scientist) | Rumi Ochiai (Rouge) | Taeko Kawata (Amy) | Taiten Kusunoki (Omega)
Scripts

Sonic Episode | Shadow Episode | Silver Episode | Last Episode

Other
Action Gauge | Auto Running | Bike | Buggy | Case | Chao in Space | Chaos Crush | Conveyor Belt | Custom Shoes | Cylinder | Dr. Eggman's Train | Dummy Ring | Eagle | Elise's Prayer | Eye of Solaris | Explosion Trap | Green Orb | Glider | Hanging Bell | Horizontal Bar | Hover Craft | Havok | Heart Bombs | Hint Ring | Laser Field Block | Lotus | Minecart | Mirror of Soleanna | Orb statue | Orca | PK mark | Purple Orb | Rainbow Gem | Rimlight | Scepter of Darkness | Shop | Soleanna | Solaris Project | Sphere | Spotlight | Super-Speed Stage | Turtle | Wall Jump | Warp Hole