Hip and Hop are characters that appear in Sonic the Hedgehog Spinball. They are a pair of kangaroos who reside in the Veg-O-Fortress' Lava Powerhouse.
Appearance
Hip and Hop are a pair of identical anthropomorphic Kangaroos with blue fur and orange-rimmed mouths. For attire, they wear white gloves and long black and white shoes.
Overview
In both the 16-bit and 8-bit version of Sonic the Hedgehog Spinball, Hip and Hop are found in the Lava Powerhouse where they hop on each side of a bellow machine. When the player starts the Stage or after they get knocked off to the side, Hip or Hop will do a medium leap on their bellow machine and blow Sonic back on the pinball table with a hot steam pillar.
In other media
Archie Comics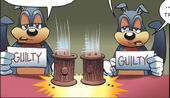 In Sonic the Hedgehog comics published by Archie Comics, Hip and Hop were first seen escaping from Dr. Robotnik's Veg-O-Fortress. Afterwards, they became judges for the Republic of Acorn.
Trivia
Gallery