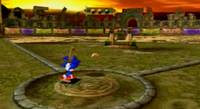 Hit it! Home Run is a mini-game in the Party Mode of Sonic and the Secret Rings. It is based on the sport baseball.
Controls
Swing the Wii Remote to swing the bat.
Gameplay
Each player has three chances to hit the ball thrown by the Djinn in the middle of the field. If the player hits the baseball at the right time, the player will make a home run. Whichever player has the most home runs by the end of the game is the winner.
Tips
Ad blocker interference detected!
Wikia is a free-to-use site that makes money from advertising. We have a modified experience for viewers using ad blockers

Wikia is not accessible if you've made further modifications. Remove the custom ad blocker rule(s) and the page will load as expected.