Homing Attack
Talk

9
8,723pages on
this wiki

Press

/

after jumping to launch a Homing Attack that zeroes in on enemies!

— Omochao Description about the Homing Attack in Sonic Generations
Homing Attack

Sonic using the Homing Attack on an Gun Hunter in Sonic Generations.
Statistics and Overview
First appearance
User(s)
Description

An attack that homes straight into an enemy.
The Homing Attack (ホーミングアタック, Hōmingu Atakku?) is to date one of Sonic the Hedgehog's most recognizable trademark attacks. First appearing in Sonic Adventure, it quickly became one of the most frequently used moves in the video game series.
How to Perform
Description
The Homing Attack was first used in Sonic Adventure. As its name implies, the Homing Attack allows the user to home directly into a nearby enemy with a target-seeking midair spin attack. The attack's force from bouncing off targets can be chained to attack several enemies and to reach higher areas. Sonic and the Secret Rings has purchasable upgrades that increase the max distance you can homing attack/chain attack. Sonic Generations has a purchasable upgrade that allows Sonic to perform chain attacks faster. The attack was first performed by Sonic and has since become a staple in the Sonic the Hedgehog series, with all manner of characters being able to perform the attack, including Tails, Amy and, most notably, Shadow. The Homing Attack can also be used to quickly target other things such as Springs, Grind Rails, Balloons, and Item Boxes, and the attack move is sometimes necessary to cross bottomless pits or to just proceed forward more quickly.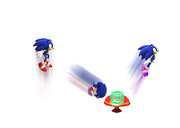 However, should the target start moving "too fast" as the homing attack is executed, it can still catch up with no problem, as in Shadow the Hedgehog, if one player in vs. mode uses a Spin Dash away from another's homing attack, it shows that they cannot escape it, unless they block it with another spinning motion type move that is (or being shielded by certain obstacles that can be destroyed by a Jump Dash and Homing Attack alike; which as it also applies to any target that will put Shadow in a Homing Attack state, any object that can be destroyed can block the Homing Attack and cause one to bounce off of it despite not being target-able). But in some games like Sonic Unleashed and Sonic Generations, if the target is moving at the same rate as Sonic, like a boss, Sonic will give up after about 4 seconds and cancel the move. Also, in the 3DS version of Sonic Generations, if Classic Sonic attempts to home in on Big Arm while he moves to the background, Classic Sonic will either hit or go right past it, depending on the timing. Some games increase the speed, and the "bounce off" motions varied from game to game.
Since Sonic Adventure 2, Sonic and the other users of the homing attack perform various tricks after striking an enemy. In Sonic Heroes, this would occur when the Speed formation character performed the homing attack on an enemy. He/she would ricochet back into the air performing a variety of flips or spins. Sonic's moveset of tricks have remained relatively the same in his most recent next-gen games such as Sonic Unleashed, Sonic Colors, and Sonic Generations
Sonic Heroes
In Sonic Heroes, whenever the player collected a blue Power Core, the homing attack's power would increase. The levels of power are as follows:
Level 0: The attack causes one hit point of damage to the targeted enemy.
Level 1: The attack causes two hit points of damage to the targeted enemy.
Level 2: The attack causes three hit points of damage to the targeted enemy.
Level 3: The attack causes three hit points of damage to the targeted enemy. The attack also has the same effects as a Tornado Jump, causing enemies to lose their shields or be flipped over as well as allowing the character to traverse up poles and activate propellers.
Also, whilst in power formation, the other two teammates will automatically perform a Homing Attack (known as "Auto Homing") nearby enemies when they are not being used in other attacks.
Variants
Blast Attack
The Blast Attack is a move that appeared in Sonic 3D Blast and can only be used when Sonic has a Gold Shield. Much like the Homing Attack, the move causes Sonic to home straight into a nearby enemy and the player has to press the jump button twice to perform, however, the Blast Attack cannot chain attacks. Sonic can not jump dash with this move when there are no enemies nearby and instead goes straight down to the ground. This is often considered to be the predecessor to the Homing Attack.
Jump Dash
The Jump Dash is a quick dash performed in the air. The move is performed whenever a player uses the Homing Attack when there are no enemies in the vicinity. The Jump Dash is also used by every playable support character in Shadow the Hedgehog (with the exception of Maria) instead of the Homing Attack. The move lets the player move forward a bit and also helps with platforming, but it also takes the player out of a spin, so if the player collides with an enemy, he/she will take damage.
Light Speed Attack
The Light Speed Attack can only be performed if the player has the Ancient Light upgrade. The Light Speed Attack is a technique that resembles a cross between the Homing Attack and the Light Speed Dash. This move attacks all nearby enemies with series of Homing Attacks at light speed.
Maximum Heat Knuckles Attack
The Maximum Heat Knuckles Attack is a move very similar to the Light Speed Attack, and is used only by Knuckles the Echidna. When performing this move, Knuckles homes into all nearby enemies.
Homing Smash
The Homing Smash is an upgrade that can be obtained by buying the White Gem at a shop in Sonic the Hedgehog (2006) before Aquatic Base. It enables Sonic to hang in mid-air before dashing at his opponent with increased range and power.
Fire Claw
The Fire Claw is a move used by Blaze the Cat in Sonic the Hedgehog (2006), where Blaze launches forward whilst spinning horizontally and sticking one arm and one hand out in front of her. The move allows Blaze to home in on the nearest enemy and like the Homing Attack, the move can be chained.
Action Chain
An Action Chain is a string of consecutive Homing attacks used to get across huge gaps that are too far to normally jump over. The name was coined in the Wii/PS2 Sonic Unleashed.
Other Game Appearances
Super Smash Bros. Brawl
The Homing Attack appears in
Super Smash Bros. Brawl
as the main special move for Sonic. Unlike in the main
Sonic games
, it can be used infinitely, so it is effective for getting back onto the stage after being launched.
Changes
The Homing Attack takes longer to perform here. Sonic spins in to the air and rises, grunts and then goes for the the closest character. If no one is present, it will just go diagonally downwards in the direction he's facing. He can also tap the attack or special button to attack sooner, but with less accuracy. The attack can also be steered to a certain extent.
Trivia
In some games, as long as the Homing Attack hits anything damageable, the character will bounce off. Thus in some cases, it is possible for the Homing Attack to be blocked by other targets that cannot be locked on, such as breakable walls in Shadow the Hedgehog, though this happens rarely.
Sonic in Shadow the Hedgehog is the only partner of Shadow's who can perform this move, as this is because Sonic needed a working Homing Attack for the Boss Battle against Diablon and Sonic.

Sonic also seems to break the logic in that he can aim a Homing Attack at targets a higher elevation from him and even right above him, despite in most games needing to be a bit high above targets first. This also even works when Sonic is directly above an enemy/target, where in that case a Jump Dash would occur instead if a normal circumstance.

This also occurred in Sonic Heroes, while in Speed Formation. The speed character's homing attack would not be able to reach robots that were higher than them but the Partner characters like Tails and Knuckles would attack the robots no matter how high up they were. This could be used to an advantage to destroy robots too high to reach by normal means.

A glitch in Sonic Heroes in using the move causes the player to circle around the enemy several times instead of actually hitting the enemy.
In Super Smash Bros. Brawl, depending on the circumstances, Sonic can go under a stage (like Final Destination) and perpetually use the move to move around under it.

Brawl is the only game where Sonic cannot choose which opponent to attack and the move itself has a delay.

Homing Attack is also an unlockable Skill for Classic Sonic in the console/PC versions of Sonic Generations. He automatically gets it as standard in the 3DS version after beating the first boss.
Gallery
Navigation Templates to Homing Attack
Sonic Adventure

/

Remake

/

DLC

/

Beta Elements

Characters
Sonic (Super Sonic) | Tails | Knuckles | Amy | E-102 Gamma | Big | Eggman | Chaos | Froggy | Tikal | Pachacamac | Chao | Metal Sonic* | Cream* | Silver Sonic II* | Chao
E-00 Series
Baby Kiki | Rhinotank | Sweeper | Leon | Boa-Boa | Spinner | Ice Ball | Kart Kiki | Buyoon | Cop Speeder | Spiky Spinner | Electro Spinner | Ghora | Egg Keeper | Beat | Mecha Fish | Egg Pirate
E-100 Series
Beta (Mark II) | Gamma | Delta | Epsilon | ZERO | Zeta
Locations
Adventure Fields
Egg Carrier | Mystic Ruins | Station Square
Chao Gardens
Station Square Garden | Mystic Ruins Garden | Egg Carrier Island
Misc.
Angel Island | Black Market | Chao Stadium | Tails' Lab
Action Stages
Emerald Coast | Windy Valley | Casinopolis | IceCap | Sky Chase | Twinkle Park | Speed Highway | Red Mountain | Sky Deck | Lost World | Hot Shelter | Sand Hill | Twinkle Circuit | Final Egg
Bosses
Chaos 0 | Chaos 2 | Chaos 4 | Chaos 6 | E-101 Beta | E-101 Mark II | E-102 Gamma | E-103 Delta | E-104 Epsilon | E-105 Zeta | Egg Carrier | Egg Hornet | Egg Viper | Egg Walker | Perfect Chaos | ZERO
Moves/Techniques
Climb | Dig | Flight Mode | Propeller Flight | Glide | Hammer Attack | Hammer Jump | Hover | Homing Attack | Homing Missile Launch | Jump Attack | Laser Gun | Light Speed Attack | Light Speed Dash | Lightning Bolt | Lure Attack | Maximum Heat Knuckles Attack | Punch Attack | Rapid Tails Attack | Spin Hammer Attack | Spin Dash | Spin Jump | Tails Attack

Level Up Items

Ancient Light | Crystal Ring | Fighting Gloves | Jet Anklet | Jet Booster | Laser Blaster | Life Belt | Light Speed Shoes | Long Hammer | Lure | Power Rod | Rhythm Badge | Shovel Claw | Warrior Feather
English Voice Actors
Ryan Drummond (Sonic) | Corey Bringas (Tails) | Michael McGaharn (Knuckles) | Deem Bristow (Eggman) | Jennifer Douillard (Amy) | Jon St. John (Big) | Elara Distler (Tikal, Station Square Train Voice, Default Menu Voice) | Steve Broadie (Gamma, Pachacamac, Mystic Ruins Train Voice) | Tomoko Sasaki (Chao)
Japanese Voice Actors
Jun'ichi Kanemaru (Sonic) | Kazuki Hayashi (Tails) | Nobutoshi Kanna (Knuckles) | Chikao Ōtsuka (Eggman) | Taeko Kawata (Amy) | Shun Yashiro (Big) | Kaori Asō (Tikal) | Jōji Nakata (Gamma) | Tōru Ōkawa (Pachacamac) | Kaho Kōda (Station Square Train Voice) | Nobutoshi Kanna (Mystic Ruins Train Voice) | Elara Distler (Default Menu Voice) | Tomoko Sasaki (Chao)

Original Soundtrack

/

Remix

/

Vocal Mini Album

/

20th Anniversary

Believe In Myself | It Doesn't Matter | Lazy Days | My Sweet Passion | Open Your Heart | Unknown from M.E.

Other
Air Bubbles | Auto Running | Bumper | Cannon | Capsule | Chao Eggs | Chaos Emeralds | Chao in Space | Chao Machine | Conveyor Belt | Corkscrew Loop | Dash Panel |Debug Mode | Egg Carrier 2 | Emblem | Emerald Radar | Emerald Shards | Employee ID Card | Flipper | Gallery | Balloon | Hedgehog Hammer | Jump Panel | Item Box (Bomb, Extra Life, Invincibility, Lightning Shield, Power Sneakers, Shield, Super Ring) | Key Stones (Gold Statue, Ice Stone, Silver Statue, Wind Stone) | Mission Mode | Monkey Destruction Switch | Mr. Know-It-All | Pinball Shooter | Power Cubes | Ramp | Rings | Rocket | Sandboard | Shuttle Loop | Sky-Chase Dragon | Slot Machine | Snowboard | Sonic Token | Station Square Police | Switch | Target Dolls | Teleporter | Tornado | Tornado 2 | Twinkle Circuit Hover Car | Wind Path

*Exclusive to Sonic Adventure DX.
Sonic Heroes

Playable
characters
Team Sonic
Sonic | Tails | Knuckles
Team Rose
Amy | Cream | Cheese | Big
Team Dark
Shadow | Rouge | Omega
Team Chaotix
Espio | Charmy | Vector
Team Super Sonic
Super Sonic | Tails (Super Shield) | Knuckles (Super Shield)
Other characters
Eggman | Metal Sonic (Neo Metal Sonic) | Chocola | Froggy | Shadow Android
Enemies
Cameron | Egg Bishop | Egg Hammer | Egg Knight | Egg Magician | Egg Pawn | Egg Pawn (Casino version) | E-2000 | E-2000R | Falco | Flapper | Gold Cameron | Gold Klagen | Heavy-Egg Hammer | Klagen | Rhinoliner | Pumpkin-Head Ghosts

Stages

1P Stages
Sea Gate | Seaside Hill* | Ocean Palace | Grand Metropolis* | Power Plant | Casino Park | BINGO Highway* | Rail Canyon* | Bullet Station | Frog Forest* | Lost Jungle | Hang Castle | Mystic Mansion | Egg Fleet* | Final Fortress | Special Stage*
2P Stages
City Top | Casino Ring | Turtle Shell | Egg Treat | Pinball Match | Hot Elevator | Seaside Course | City Course | Casino Course | Road Rock | Mad Express | Terror Hall
2P Play Mode
Action Race | Battle | Bobsled Race | Expert Race | Quick Race | Ring Race | Special Stage
Bosses
Egg Albatross | Egg Emperor | Egg Hawk | Metal Madness | Metal Overlord | Robot Carnival | Robot Storm | Team Chaotix | Team Dark | Team Rose | Team Sonic
Moves/
Techniques
Speed
Manoeuvres
Homing Attack | Kick | Light Dash | Propeller Hammer | Rocket Accel | Shuriken | Spin | Swinging Hammer Attack | Tornado Jump (Black Tornado, Blue Tornado, Leaf Swirl, Tornado Hammer) | Triangle Jump
Power
Manoeuvres
Auto Homing | Body Press | Bubblegum Descent | Fire Combination | Fire Dunk | Fire Launcher | Fireball Jump | Forward Power Attack | Hammer Down | Jump Fire Knock | Jump Fireball | Remote Power Attack (Fireball, Fire Knock) | Triangle Dive | Umbrella Descent | Wide Power Attack (Big Fishing, Omega Arm, Vector Breath, Volcanic Dunk)
Fly
Manoeuvres
Ascending Flight | Cheese Attack | Dummy Ring Bomb | Sting Attack | Thunder Shoot | Quick Ascent
Team Blast
Sonic Overdrive | Chaos Inferno | Flower Festival | Chaotix Recital | Super Sonic Power
Other
Grinding | Jump Dash | Lightspeed Attack | Spin Jump
English Voice Actors
Ryan Drummond (Sonic, Metal Sonic) | Deem Bristow (Eggman) | William Corkery (Tails) | Scott Drier (Knuckles) | David Humphrey (Shadow) | Lani Minella (Rouge, Omochao) | Jon St. John (Omega, Big) | Jennifer Douillard (Amy) | Sarah Wulfeck (Cream) | Bill Corkery (Espio) | Marc Biagi (Vector) | Emily Corkery (Charmy)
Japanese Voice Actors
Jun'ichi Kanemaru (Sonic the Hedgehog, Metal Sonic) | Chikao Ōtsuka (Eggman) | Ryō Hirohashi (Tails) | Nobutoshi Kanna (Knuckles) | Kōji Yusa (Shadow) | Rumi Ochiai (Rouge) | Taiten Kusunoki (Omega) | Taeko Kawata (Amy) | Sayaka Aoki (Cream) | Takashi Nagasako (Big) | Yūki Masuda (Espio) | Kenta Miyake (Vector) | Yōko Teppōzuka (Charmy) | Etsuko Kozakura (Omochao)

OST

/

Vocal Trax

/

Official

/

20th Anniversary

Sonic Heroes | We Can | This Machine | Follow Me | Team Chaotix | What I'm Made of...
Other
Ball Switch | Bobsled | Bomb | Bull Train | Bumper | Cannon | Capsule | Castle Key | Cell Key | Cervix Tunnels | Chaos Emeralds | Character battles | Container | Conveyor Belt | Dash Panel | Dash Ring | Detonator Switch | Dummy Rings | Egg Fleet | Emblem | Flipper | Flower | Fly Type | Formation Change Gate | Gallery | Giant Frogs | Giant Switch | Glowing Mushrooms | Goal Ring | Grind Rail | Haunted Towers | Hint | Item Box (Barrier, Fly Charge, High Speed, Invincible, Rings, Power Core, Team Blast Ring, 1 UP) | Kao | Palm Plants | Pole | Power Gong | Power Type | Propeller | Pulley | Puzzle Game | Ranks | Ramp | Rings | Shuttle Loop | Slot Machine | Spear | Speed Type | Special Stage Key | Sphere | Spiderlight | Super Hard Mode | Super Shield | Switch | Target Switch | Team Blast Gauge | Team Chaotix Missions | Teleport Balls | Vine | Warp Flower | Weight | Wide Spring

*Stage is also playable in 2P Battle mode.