B-3x Hot Shot
Talk

0
8,026pages on
this wiki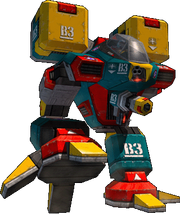 The B-3x Hot Shot – Heavy-Armed Combat Walkers is a boss from Sonic Adventure 2 and Sonic Adventure 2: Battle. It also makes an appearance in Sonic X.
History
It appears only in the Dark Story, trying to destroy Shadow after he was released in Iron Gate. Shadow likewise proceeded to fight and destroy it to demonstrate to Eggman a taste of the power he possessed.
Judging by the pilot's pre-battle quote, the Hot Shot walker used against Shadow belonged to GUN's Scorpion Troops.
Appearance
The Hot Shot is a mechanical walker with a machine gun, missile launchers, and a lock-on plasma cannon. Its main weak-point is the cockpit, requiring four strikes to defeat it. Hot Shot bears a resemblance to its Hero story equivalent F-6t Big Foot, although Big Foot lacks the lock on cannon that its counterparts possess, making Hot Shot slightly more dangerous.
Trivia