Hourglass
Talk

0
6,669pages on
this wiki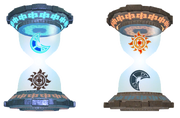 Hourglasses function as switches. When "activated" (flipped over by an attack), it is usually set for an amount of time before the switch "deactivates". The Hourglasses are usually decorated with either the bumper symbol or an icon of the sun one one side and the moon on the other.
Game Appearances
Edit
Sonic Adventure 2Edit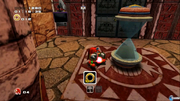 Large hourglasses are first seen in Sonic Adventure 2, where it can be found at Dr. Eggman's pyramid base's stages, such as Pyramid Cave, Egg Quarters and Death Chamber. If the player jumps or punches hourglass, it can open various doors for certain amount of time, however the doors will slowly close and when they do the hourglass flip back to normal. The player is able to know about the flow of time by hearing the ticking at the background and its speed increases until time runs out. The player can travel back and then activate the hourglass again in order to proceed on the stage.
When it comes to the fight against King Boom Boo, one of his minions conveniently carries an hourglass, you need to hit the minion in order to get King Boom Boo in his weak shadow state.
Sonic UnleashedEdit
The Hourglasses in Sonic Unleashed function more differently than in their previous appearance, other than the option to change Day or Night in the pause menu when at Town Stages, there is an hourglass in each of the Entrance Stage which has the same function of switching from day or night and from hedgehog to werehog.
Appearances in Other Media
Edit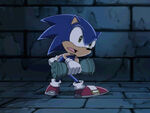 In the episode "Sonic's Scream Test" of Sonic X anime, there was a stone figure of an hourglass similar to the ones in Sonic Adventure 2. It was discovered on the grounds of a castle where a movie (starring Linsey Thorndyke) was being shot. One of the cameramen removed the hourglass statue, which awoke the Boos. Restoring the hourglass to its rightful place made the Boos depart.