Hyper Sonic
Talk

52
8,042pages on
this wiki
Hyper Sonic
Appearances
First appearance

Sonic the Hedgehog 3 & Knuckles
(First and only appearance)

Transformation overview
Base character
Cause of 
transformation

The seven Super Emeralds

Real-world designer(s)
Creator
(real-world)
Physical description
Fur

Multicolored (Flashing in red, blue, green, yellow, white and violet)

Skin

Peach

Eyes

Green (Black, as seen during Sonic 3 & Knuckles ending)

Attire

Light weight, hyper-friction resistant red sneakers with a white strap
White gloves
White socks

Skills, powers and abilities
Enhanced powers
and skills

Enhanced acrobatic skills and reflexes
Enhanced strength
Enhanced speed
Invincibility
Enhanced jumping abilities
Breathing under water
Flight

Moves and techniques
For the Sonic the Comic story, see Sonic the Comic #134.
Hyper Sonic (ハイパーソニック, Haipā Sonikku?) is a hyper transformation of Sonic the Hedgehog that is obtained by collecting all seven Super Emeralds, which are more powerful versions of the Chaos Emeralds that have been enhanced with energy from the Master Emerald. To trigger the transformation, Sonic must collect at least fifty rings and perform the Insta-shield. To this date, Hyper Sonic is recgonized as the most powerful form of Sonic ever.
Appearance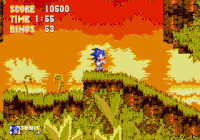 Thus so far, Hyper Sonic's only appearance has been Sonic 3 & Knuckles. In the game, Hyper Sonic looks very similar to Super Sonic, sharing the same body proportions and upturned head spikes. However, Hyper Sonic flashes in all seven colors of the Chaos/Super Emeralds and has large flashing sparks (similar to the invincibility item) floating around him. Also, when moving, he leaves several after-images.
Abilities
Hyper Sonic has all the benefits of Super Sonic, such as invincibility to all attacks, improved speed and strength, and greater jumping abilities. Since Hyper Sonic is generally an upgraded version of Super Sonic, it can be assumed that all of Hyper Sonic's physical abilities surpass that of Super Sonic, meaning he possesses strength and speed that surpasses that of Super Sonic. Hyper Sonic also has some new and improved abilities from Super Sonic, such as the ability to breathe underwater, further increased speed, is fully invincible towards any attack or environment, and an unnamed mid-air dash attack that can be performed in all directions, which destroys all enemies in the direct vicinity, excluding bosses, which is referred to by some fans as "Sonic Boom" or "Hyper Flash". This is Sonic's most powerful form to date.
As with all Chaos Emerald/Super Emerald-caused transformations, once Hyper Sonic runs out of rings, his transformation will end.
Trivia
Gallery
Video
Sonic the Hedgehog 3

/

Beta Elements

/

& Knuckles

Characters
Sonic (Super Sonic, Hyper Sonic) | Tails (Super Tails) | Knuckles (Super Knuckles, Hyper Knuckles) | Dr. Robotnik | Mecha Sonic (Super Mecha Sonic) | Flicky | Pocky | Pecky | Cucky | Ricky | Rocky
Badniks
Batbot | Blaster | Blastoid (Carnival Night Zone) | Blastoid (Hydrocity Zone) | Bloominator | Bubbles | Bugernaut | Butterdroid | Catakiller, Jr. | Chainspike | Clamer | Cluckoid | Corkey | Dragonfly | EggRobo | Fireworm | Flybot767 | Hyudoro | Iwamodoki | Jawz | Madmole | Mantis | Mega Chopper | Monkey Dude | Mushmeanie | Orbinaut (Pola) | Penguinator | Pointdexter | RhinoBot | Ribot | Rock'n | Sandworm | Skorp | Snale Blaster | Spikebonker | Spiker | Star Pointer | TechnoSqueek | Toxomister | Turbo Spiker
Zones
Sonic 3
Angel Island Zone | Hydrocity Zone | Marble Garden Zone | Carnival Night Zone | IceCap Zone | Launch Base Zone | Special Stages | Bonus Stage
Sonic & Knuckles
Mushroom Hill Zone | Flying Battery Zone | Sandopolis Zone | Lava Reef Zone | Hidden Palace Zone | Sky Sanctuary Zone | Death Egg Zone | Doomsday Zone | Special Stages | Bonus Stages
Competition
Azure Lake Zone | Balloon Park Zone | Chrome Gadget Zone | Desert Palace Zone | Endless Mine Zone
Sub-bosses
Fire Breath | Big Shaker | Tunnelbot | Bowling Spin | Big Icedus | Twin Hammer | Hei Hou | Gapsule | Barrier Eggman | Stone Guardian | Heat Arms | Egg Mobile Hammer Ball | Flying Eggman | Red Eye | Death Ball
Bosses
Flame Mobile | Screw Mobile | Drill Mobile | Graviton Mobile | Freezer Mobile | Ball Shooter | Beam Rocket | Big Arm | Jet Mobile | Hang Mobile | Egg Golem | Hot Mobile | Knuckles | Mecha Sonic | Super Mecha Sonic | Kyodai Eggman Robo | The Doomsday Zone
Moves/Techniques
Bounce Attack | Propeller Flying | Glide | Hyper Flash | Insta-Shield | Gliding Knuckles Attack | Spin Jump | Spin Dash | Spin Attack | Wall Climb
Items
Ring | Monitor (Aqua Shield, Flame Shield, Lightning Shield, Super Ring, Power Sneakers, Invincibility, Extra Life, S, Eggman) | Continue | Sphere | Spring | Star Post | Bumper | Switch | Air Bubbles | Signpost | Capsule | Spikes | Chaos Emeralds | Super Emeralds | Balloon | Bomb | Banana | Self-Propelled Bomb | Change | Snowboard
Other
Angel Island | Booster | Cannon | Conveyor Belt | Corkscrew Loop | Crusher | Debug Mode | Fireball Cannon | Flipper | Flywheel | Freezing Machine | Goal | Gumball | High-Speed Elevator | Jump Stand | Lava Drill | Pulley | Reverse | Ring Shooter | Seesaw | Shuttle Loop | Slot Machine | Sonic & Knuckles' Gallery | Sonic 3's Gallery | Sonic & Knuckles & Sonic the Hedgehog 3 | Spear | Spiked Ball | Spinning Top | Spinning Wheel | Strange Relief | Transport | Warp Point | Winding Tunnel | Wonderman
Sonic the Hedgehog characters