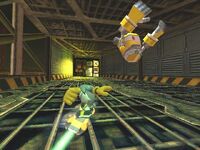 The industrial theme is a stage theme that appears in the Sonic the Hedgehog series.
Most industrial stages take place within factories or facilities, usually belonging to organizations such as the Eggman Empire or G.U.N. As such, most of these stages are among the last few levels in practically every game.
Elements common among industrial stages include conveyor belts, electrical hazards, and buzzsaws. It is most often incorporated with the Space theme, given that most space themes take place on Space Stations.
Stages with an industrial theme
Scrap Brain Zone, Sonic the Hedgehog (1991) - This is the first example of the industrial theme and incorporates many elements common to later industrial themed levels such as spinning blades, conveyor belts and moving pistons. Act 3 of this zone copies from Labyrinth Zone and contains both an underwater theme and an ancient ruins theme.
Chemical Plant Zone, Sonic the Hedgehog 2 (1992) - This zone also incorporates underwater elements in the form of Mega Mack.
Oil Ocean Zone, Sonic the Hedgehog 2 (1992)
Metropolis Zone, Sonic the Hedgehog 2 (1992)
Trap Tower, SegaSonic the Hedgehog (1993)
Landslide Limbo, SegaSonic the Hedgehog (1993) - This zone also incorporates desert elements.
Wild Water Way, SegaSonic the Hedgehog (1993) - This zone also incorporates underwater elements.
Eggman's Tower, SegaSonic the Hedgehog (1993)
Palmtree Panic, Sonic the Hedgehog CD (1993) - Mainly predominates in either future timelines; the round mainly incorporates elements of the Green Hill theme
Collision Chaos, Sonic the Hedgehog CD (1993) - This zone mainly incorporates elements of the amusement theme.
Tidal Tempest, Sonic the Hedgehog CD (1993) -  Although this round mainly incorporates underwater elements, industrial elements predominate in either future timeline but the bad future timeline retains its ancient ruins elements from the round's earlier timelines (past and present).
Quartz Quadrant, Sonic the Hedgehog CD (1993) - This theme predominate in all timelines (save for the past, for which industrial elements are minimal) except for the good future.
Wacky Workbench, Sonic the Hedgehog CD (1993)
Electric Egg Zone, Sonic Chaos (1993)
Mecha Green Hill Zone, Sonic Chaos (1993) - This stage also incorporates elements of the Green Hill theme.
Sleeping Egg Zone, Sonic Chaos (1993) - This stage also incoporates elements of the sky theme.
Launch Base Zone, Sonic the Hedgehog 3 (1994) - This zone also incorporates minor underwater elements, which are featured heavily in Knuckles' version of this stage in Sonic the Hedgehog 3 & Knuckles.
Tidal Plant Zone, Sonic the Hedgehog Triple Trouble (1994) - This zone primarily incorporates elements of the underwater theme, but it is set in an industrial environment.
Techno Tower, Knuckles' Chaotix (1995)
DarkCastle Area, Tails' Skypatrol (1995)
Battle Fortress, Tails Adventure (1995)
Dynamite Plant, Sonic the Fighters (1996)
Gene Gadget Zone, Sonic 3D (1996)
Panic Puppet Zone, Sonic 3D (1996)
Silver Castle Zone, Sonic Blast (1996)
Reactive Factory, Sonic R (1997)
Hot Shelter, Sonic Adventure (1998)
Final Egg, Sonic Adventure (1998)
Lost Colony, Sonic Adventure 2 (2001)
Eternal Engine, Sonic Adventure 2 (2001)
Cosmic Wall, Sonic Adventure 2 (2001) - This stage also incorporates elements of the space theme
Crazy Gadget, Sonic Adventure 2 (2001) - This stage also incorporates elements of the space theme
Cannon's Core, Sonic Adventure 2 (2001) - This stage also incorporates elements of the ancient ruins theme (throughout Knuckles, Rouge and Sonic's sections).
Secret Base Zone, Sonic Advance (2001) - This zone also incorporates elements of the fire theme.
Egg Rocket Zone, Sonic Advance (2001) - This stage also incorporates elements of the sky theme during the first and second phase of the zone and the space theme during the third phase of the zone.
Hot Crater, Sonic Advance 2 (2002) - This stage also incorporates elements of the fire theme.
Techno Base, Sonic Advance 2 (2002)
Grand Metropolis, Sonic Heroes (2003)
Power Plant, Sonic Heroes (2003)
Rail Canyon, Sonic Heroes (2003)
Bullet Station, Sonic Heroes (2003)
Ocean Base, Sonic Advance 3 (2004) - This zone also incorporates elements of the underwater theme.
Iron Jungle, Shadow the Hedgehog (2005)
GUN Fortress, Shadow the Hedgehog (2005)
Lava Shelter, Shadow the Hedgehog (2005) - This zone also incorporates elements of the fire theme.
Egg Factory, Sonic Riders (2006) - This zone also contains elements of the fire theme.
Ice Factory, Sonic Riders (2006) - This zone also incorporates elements of the winter theme.
White Acropolis, Sonic the Hedgehog (2006) - This zone also incorporates elements of the winter theme.
Radical Train, Sonic the Hedgehog (2006)
Aquatic Base, Sonic the Hedgehog (2006)
Death Yard Zone, Sonic Rivals (2006)
Planet Wisp, Sonic Colors (2010) - Planet Wisp was under construction; therefore, it can be considered an industrial setting.
Asteroid Coaster, Sonic Colors (2010) - This stage also incorporates elements of the space theme.
Planet Wisp, Sonic Generations (2011)
Oil Desert Zone, Sonic the Hedgehog 4: Episode II (2012) - This stage also incorporates elements of the desert theme.
Frozen Factory, Sonic Lost World (2013)
The Pit, Sonic Boom: Rise of Lyric (2014) - This stage also incorporates elements of the forest theme.
Scrapyard, Sonic Boom: Shattered Crystal (2014) - This stage also incorporates elements of the coastal theme
Lava Mountain, Sonic Runners (2015)