Iwamodoki (イワモドキ, Iwamodoki?)[1][note 1] is an enemy in the Sonic the Hedgehog series. It is a mass-produced, hermit crab-based Badnik model created by Dr. Robotnik.
Appearance
Like the Rock'n, Iwamodokis are disguise as one of the rocky blocks in Lava Reef Zone. Beneath their disguise they have a pair of black eyes and a grey body with violet details around it.
Game appearances
Sonic & Knuckles

In Sonic & Knuckles, Iwamodokis are only encountered in Lava Reef Zone where they mostly remain stationary under rocks. When the player gets close enough though, the Iwamodokis will open their eyes and prepare to self-destruct, flashing briefly in the process. Eventually, the Iwamodoki will explode into a rocky shower that can damage the player, and release the Animal inside it. No points are awarded when they self-destruct, despite the score object showing up when it self-destructs.
Iwamodokis cannot be destroyed by attacks, so it is best to get out of the way when they detonate. However, these projectiles will bounce harmlessly off any shield variant.
Sonic Mania

In Sonic Mania, and its expansion Sonic Mania Plus, the Iwamodokis appear as enemies. In terms of design, they look exactly like they did in Sonic & Knuckles. In these games, they appear in both Acts of Lava Reef Zone.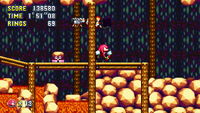 In gameplay, the Iwamodokis behave just like in their debut game: should the player get close, they will self-destruct in a shower of projectiles. Also, in Lava Reef Zone Act 2, there are machines that produce Iwamodokis and deposit them on Conveyor Belts that move in the player's direction, making them harder to dodge when they detonate. Also, unlike before, they do not release the Animals inside of them when they self-destruct.
Trivia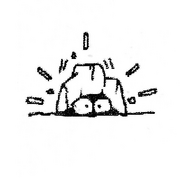 Although their name does not show up in any manual and the Badnik itself only seen briefly in Hirokazu Yasuhara's sketches of the Japanese manual, "Iwamodoki" appears to come from Japanese sources; however, a Sonic the Comic Q Zone which covered Sonic & Knuckles refers to the enemy as "Mushmeanie".[2] This may be analogous to Blastoid and Blastoid in Sonic the Hedgehog 3.
Although this Badnik blows itself up, its Animal comes out unharmed, unlike in similar cases with self-detonating Badniks, like Bombs.
Iwamodoki means "pseudo-rock" in Japanese.
Notes
↑ While not listed in any instruction manuals, the internal files in the PC release of Sonic Mania refers to this enemy as "Iwamodoki".
References
---
Main articles (Sonic 3, Sonic & Knuckles, Sonic 3 & Knuckles, Sonic & Knuckles Collection) | Gallery (Sonic 3, Sonic & Knuckles, Sonic & Knuckles Collection) | Beta elements (Sonic 3, Sonic & Knuckles) | Staff (Sonic 3, Sonic & Knuckles, Sonic & Knuckles Collection) | Glitches (Sonic 3, Sonic 3 & Knuckles)
Characters
Sonic (Super Sonic, Hyper Sonic) | Tails (Super Tails) | Knuckles (Super Knuckles, Hyper Knuckles) | Dr. Robotnik | Mecha Sonic (Mecha Sonic's Super State) | Animals (Flicky (Flicky's Super State), Pocky, Pecky, Cucky, Ricky, Rocky)
Badniks
Batbot | Blaster | Blastoid (Carnival Night Zone) | Blastoid (Hydrocity Zone) | Bloominator | Bubbles | Bugernaut | Butterdroid | Catakiller, Jr. | Chainspike | Clamer | Cluckoid | Corkey | Dragonfly | EggRobo | Fireworm | Flybot767 | Hyudoro | Iwamodoki | Jawz | Madmole | Mantis | Mega Chopper | Monkey Dude | Mushmeanie | Orbinaut | Penguinator | Pointdexter | RhinoBot | Ribot | Rock'n | Sandworm | Skorp | Snale Blaster | Spikebonker | Spiker | Star Pointer | TechnoSqueek | Toxomister | Turbo Spiker
Zones
Sonic 3
Angel Island Zone | Hydrocity Zone | Marble Garden Zone | Carnival Night Zone | IceCap Zone | Launch Base Zone | Special Stages | Bonus Stages
Sonic & Knuckles
Mushroom Hill Zone | Flying Battery Zone | Sandopolis Zone | Lava Reef Zone | Hidden Palace Zone | Sky Sanctuary Zone | Death Egg Zone | The Doomsday Zone | Special Stages | Bonus Stages
Competition
Azure Lake Zone | Balloon Park Zone | Chrome Gadget Zone | Desert Palace Zone | Endless Mine Zone
Bosses
Sub-bosses
Doctor Robotnik's Flame Craft | Doctor Robotnik's Whirlpool Machine | Tunnelbot | Self D-Struct Machine | Iceball | Swing'm Spikez | Hei Hou | Gapsule | Barrier Eggman | Guardian | Heat Arms | Egg Mobile-H | Flying Eggman | Red Eye | Death Ball
Zone bosses
Doctor Robotnik's Flame Craft | Doctor Robotnik's Waterspout and Depth Charge Machine | Doctor Robotnik's Jet Drill Pod | Doctor Robotnik's Energy Ship | Doctor Robotnik's Freeze-O-Matic | Ball Shooter | Beam Rocket | Big Arm | Jet Mobile | Hang Mobile | Egg Golem | Hot Mobile | Knuckles | Mecha Sonic | Mecha Sonic's Super State | Great Eggman Robo | The Doomsday Zone
Moves/techniques
Bound Jump | Double Jump | Fireball Spin Dash | Glide | Gliding Knuckles Attack | Hyper Flash | Insta-Shield | Propeller Flying | Spin Jump | Spin Dash | Spin Attack | Wall Climb
Items
Air Bubbles | Balloon | Banana | Bomb | Booster | Bumper | Bumper wall | Cannon | Capsule | Change | Chaos Emerald | Cloud | Continue | Fan | Jump Stand | Monitor (Water Shield, Flame Shield, Invincibility, Lightning Shield, Super Ring, Power Sneakers, Extra Life, S, Eggman) | Movable box | Mushroom | Pulley | Ring | Signpost | Self-Propelled Bomb | Slow-Down Shoes | Snowboard | Sphere | Spikes | Spring | Spinning Top | Star Post (Star Circle) | Super Emerald | Switch | Transport | Vine | Zip Line
Other
Angel Island | Barrel | Blue Knuckles | Conveyor Belt | Corkscrew loop | Crusher | Debug Mode | Fireball Cannon | Flipper | Flywheel | Freeze | Giant spear | Goal | Gravity Control Switch | Gumball | High-speed elevator | High-speed warp tube | Icicle | Jewel Radar | Perfect Bonus | Platform-raising Wheel | Pole Elevator | Relief | Reverse | Ring Shooter | Seesaw | Shuttle loop | Slot Machine | Snowblower | Sonic & Knuckles • Sonic the Hedgehog 3 | Spiked ball | Strange Relief | Time Attack | Tornado | Tunnelbot | Warp Point | Winding Tunnel | Wonderman
---
Main article | Gallery | Beta elements | Staff | Glitches | Re-releases (Plus)
Playable characters
Sonic the Hedgehog (Super Sonic) | Miles "Tails" Prower (Super Tails) | Knuckles the Echidna (Super Knuckles) | Mighty the Armadillo* (Super Mighty)* | Ray the Flying Squirrel* (Super Ray)*
Other characters
Dr. Eggman | Hard Boiled Heavies (Heavy King, Heavy Gunner, Heavy Shinobi, Heavy Magician, Heavy Rider) | Phantom Heavies (Phantom King, Phantom Gunner, Phantom Shinobi, Phantom Magician, Phantom Rider) | Metal Sonic (Giga Metal) | Animals (Becky, Cucky, Flicky, Locky, Micky, Pecky, Picky, Pocky, Ricky, Rocky, Tocky, Wocky) | Jimmy
Zones
Angel Island Zone* | Green Hill Zone | Chemical Plant Zone | Studiopolis Zone | Flying Battery Zone | Press Garden Zone | Stardust Speedway Zone | Hydrocity Zone | Mirage Saloon Zone | Oil Ocean Zone | Lava Reef Zone | Metallic Madness Zone | Titanic Monarch Zone | Egg Reverie Zone | Special Stage | Bonus Stage | Pinball Stage*
Enemies
Armadiloid | Aquis | Asteron | Ball Hog | Batbrain | Blaster | Blastoid | Bloominator* | Bugernaut | Bumpalo | Buzz Bomber | Cactula | Catakiller, Jr. | Chopper | Clucker | Crabmeat | Dango | Dragonfly | Eggrobo | Fireworm | Flasher mk.II | Gohla | Grabber | Hotaru | IceBomba | Iwamodoki | Jawz | Jellygnite | Juggle Saw | Kabasira | Kanabun | Madmole | Matryoshka-Bom | Mega Chopper | Mic Drop | Monkey Dude* | Moto Bug | Newtron | Octus | Pointdexter | RattleKiller | Rexon | RhinoBot* | Robot Bee | Robot Beetle | Roller mk.II | Scarab | Sentry Bug | Shutterbug | Silver Sonic | Spiny | Splats | Sweep | TechnoSqueek | Toxomister | Tubinaut | Turbo Spiker | Turbo Turtle | Vultron | Wall Crawl | Woodrow
Bosses
Mini-bosses
DD Wrecker | Amoeba Droid | Heavy Gunner | Big Squeeze | Shiversaw | Hotaru Hi-Watt | Dive Eggman | Uber Caterkiller | Meter Droid | Drillerdroid | Egg Pistons mk.II | Crimson Eye
Zone bosses
Death Egg Robot | Mean Bean Machine | Weather Globe | Spider Mobile | Heavy Shinobi | Metal Sonic | Laundro-Mobile | Heavy Magician | Mega Octus | Heavy Rider | Heavy King | Gachapandora | Phantom Egg | Phantom King and Klepto Mobile
Moves/techniques
Air Glide* | Bounce Jump | Climb | Double Jump | Drop Dash | Fireball Spin Dash | Glide | Hammer Drop* | Insta-Shield | Propeller Flying | Ring Spark Field | Spin Attack | Spin Dash | Spin Jump | Super Peel Out | V. Maximum Overdrive Attack
Gimmicks and obstacles
Beanstalk | Bomb | Bumper | Bungee Rope | Bumper wall | Conveyor Belt | Crusher | Dash Panel | Fan | Fireball Cannon | Flipper | Flywheel | Goal Plate | High-speed warp tube | Ice Spring | Jump Panel | Platform-raising Wheel | Pulley | Ruby Mist | Seesaw | Size Beam | Snowblower | Spiked ball | Spikes | Spring | Star Post | Switch | Transport | Vine | Zip Line
Objects
Air Bubbles | Capsule | Chaos Emerald | Giant Ring | Giant spear | Klepto Mobile | Little Planet flowers | Master Emerald | Metal Sonic Projector | Medallion | Monitor (Aqua Shield, Character*, Hyper Ring, Eggman Mark, Flame Shield, Invincibility, Player Swap, Power Sneakers, Random, S, Shield, Super Ring, Thunder Shield) | Phantom Ruby | Ring | Robot teleporter | Schrodinger's Capsule* | Sphere | Star Circle | Time Warp Plate | UFO | Warp Point
Other
Angel Island | Auto Running | Continue | Death Egg Robot | Debug Mode | Egg Mobile | Freeze | Hang Glider | Level Select | Little Planet | Mega Mack | Perfect Bonus | Shuttle loop | Sonic Mania Adventures (Sonic Returns, Sonic and Tails, & Knuckles, Mighty and Ray, Metal Mayhem, The Complete Mini-Series) | Time Attack | Time Over | Tornado | Tunnelbot | Winding Tunnel

*Appears in Sonic Mania Plus only