This article is about a subject in the real world.
Information in this article is about real-life people, companies, and objects, and does not relate to the in-universe Sonic series.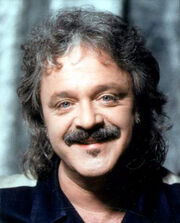 Jim Cummings (born in 3 November 1952 at Youngstown, Ohio) is a prolific American voice actor who played the voice of Doctor Robotnik in the Sonic the Hedgehog television series, as well as the Swat-bots and other characters. He also voiced Dr. Robotnik, Scratch, and other characters in the pilot episode of Adventures of Sonic the Hedgehog.[1]
Other Roles
Among many other roles, he's provided the voices of Winnie the Pooh and Tigger ever since The New Adventures of Winnie the Pooh, and Darkwing Duck. He's also known for voicing Cat from CatDog, various voices from Animaniacs, Kaa, King Louie and Colonel Hathi from The Jungle Book and Bonkers and Lucky Piquel from Bonkers.
References
External links
Former English Voice Actors
Sonic the Hedgehog (TV series)
Ad blocker interference detected!
Wikia is a free-to-use site that makes money from advertising. We have a modified experience for viewers using ad blockers

Wikia is not accessible if you've made further modifications. Remove the custom ad blocker rule(s) and the page will load as expected.