Joe Sushi
Talk

0
6,677pages on
this wiki
Joe Sushi

Joe Sushi AKA Rocky (Sonic Jam artwork)
Appearances
First appearance
Appearances
in other
media
Real-world designer(s)
Creator
(real-world)

Sonic Team

Physical description
Species

Walrus

Alignment and character traits
Alignment

Good
Joe Sushi is an animal friend that could be found during early games of the Sonic the Hedgehog series (including the original Sonic the Hedgehog). In Japan his name is Rocky.
He was said to have grown up in the Green Hill Zone with Sonic, and is a close friend of Tux the penguin.
In Game Appearances
Edit
In other media
Edit
Sonic the Hedgehog Story ComicEdit
Rocky along with other animal friends, appears in Sonic the Hedgehog Story Comic manga. He appears in few panels in first two stories. In Sonic the Hedgehog Story Comic Volume 3' story Sonic Rampage!! he, Flicky and Pecky gets kidnapped by doctor Eggman who uses them as baits to get rid of Sonic. During the moment of truth, Eggman threatened to torture them to death if Sonic would not give up. Despite that, Sonic manages to free Rocky and others from device of Eggmobile with the speed of sound and after that he finished Eggman.
Sonic the ComicEdit
Although never explicitly named, a character resembling Joe Sushi appeared in several early issues of Sonic the Comic from Fleetway Editions, as a member of the Emerald Hill Folk.
Although Joe Sushi did not appear, the character of Rotor Walrus is presumably based on his appearances in the games.
Joe Sushi made a cameo in 2 episodes of Sonic X.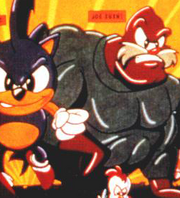 Before SatAM and Adventures of Sonic the Hedgehog, DIC had plans for a much different Sonic cartoon which was never made, but concept art was leaked. Amongst the cast of this show was a very large, buff, angry walrus named Joe Sushi who was part of Sonic's "Freedom Team".