This article is about a subject in the real world.
Information in this article is about real-life people, companies, and objects, and does not relate to the in-universe Sonic series.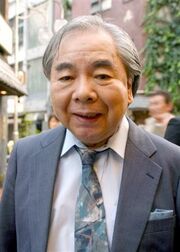 Kōhei Takiguchi (滝口 幸平, Takiguchi Kōhei?, 17 April 1931–29 August 2011), died age 80, better known by the stage name Junpei Takiguchi (滝口 順平, Takiguchi Junpei?), was a Japanese voice actor and narrator from Chiba Prefectur, Japan.
Besides his various narration and dubbing roles, he was also known for his roles in Time Bokan as (Perasuke), Yatterman (as Dokurobei), Mazinger Z (as Count Brocken), Tekkaman: The Space Night (as Ranbos), Yuusha Raideen (as Dokurobei), and for his narration roles in Burari Tochūgesha no Tabi, and Pittankokan Kan.
He voiced Dr. Robotnik in Sonic the Hedgehog: The Movie.
He died on August 29, 2011 aged 80, from stomach cancer.
External links
Sonic the Hedgehog: The Movie
Former Japanese Voice Actors
Ad blocker interference detected!
Wikia is a free-to-use site that makes money from advertising. We have a modified experience for viewers using ad blockers

Wikia is not accessible if you've made further modifications. Remove the custom ad blocker rule(s) and the page will load as expected.