Ad blocker interference detected!
Wikia is a free-to-use site that makes money from advertising. We have a modified experience for viewers using ad blockers

Wikia is not accessible if you've made further modifications. Remove the custom ad blocker rule(s) and the page will load as expected.
"Just Call Me SONIC" (Just Call Me SONIC ~眩しい風になれ - レコチョク~, Just Call Me SONIC ~Mabushii Kaze ni nare~?, lit. "Just Call Me SONIC ~Become the Dazzling Wind") is a Japanese song that is listed in the Sonic X music album Sonic Drive.[1] In contrast to all of the other songs in Sonic X, this song has never played at any moment during the series.
Staff
Lyrics
Japanese (Kanji)
Japanese (Romaji)
English translation

立ち止まる時間はない
追いかける明日があるから
悔やんでるそんなマに すぐ夜になるよ

生きてくってことは 終わらないレースのよう
見たことがない ゴール(を) 胸に

眩しい風になれ
世界をかけぬけるような
嵐を巻き起こせ
Gotta keep on running!
You know I'm SONIC

心がdownしてるとき
オレでもブルーになるけど
負けたくない 終わりじゃない それだけがエナジー

足がもつれても 倒れそうでも 走れる
タフな心が そこに あれば

眩しい風になれ
世界をかけぬけるような
嵐を巻き起こせ
Gotta keep on running!
You know I'm SONIC

オレのことを誰か
捕まえてごらんよ
オレは
世界一自由
Just call me SONIC

くじけてもいい もう一度起きあがれる
タフな心が そこに あれば

眩しい風になれ
未来をつれてくるような
嵐を巻き起こせ
Gotta keep on running!
You know I'm SONIC

夢を持ってるなら
捕まえてごらんよ
キミも
世界一速い
風になれ

眩しい風になれ
世界をかけぬけるような
嵐を巻き起こせ
Gotta keep on running!
You know I'm SONIC

オレのことを誰か
捕まえてごらんよ
オレは
世界一自由
Just call me SONIC

Tachitomaru jikan wa nai
Oikakeru ashita ga aru kara
Kuyanderu sonna ma ni sugu yoru ni naru yo

Ikitekutte koto wa owaranai reesu no you
Mita koto ga nai gooru (wo) mune ni

Mabushii kaze ni nare
Sekai wo kakenukeru you na
Arashi wo makiokose

Gotta keep on running!
You know I'm SONIC

Kokoro ga down shiteru toki
Ore demo buruu ni naru kedo
Maketakunai owari ja nai sore dake ga enajii

Ashi ga moturetemo taoresou demo hashireru
Tafu na kokoro ga soko ni areba

Mabushii kaze ni nare
Sekai wo kakenukeru you na
Arashi wo makiokose
Gotta keep on running!
You know I'm SONIC

Ore no koto wo dare ka
Tsukamaete goran yo
Ore wa
Sekai ichijiyuu
Just call me SONIC

Kujikete mo ii mou ichido okiagareru
Tafu na kokoro ga soko ni areba

Mabushii kaze ni nare
Mirai wo tsuretekuru you na
Arashi wo makiokose
Gotta keep on running!
You know I'm SONIC

Yume wo motteru nara
Tsukamaete goran yo
Kimi mo
Sekai ichi hayai
Kaze ni nare

Mabushii kaze ni nare
Sekai wo kakenukeru you na
Arashi wo makiokose
Gotta keep on running!
You know I'm SONIC

Ore no koto wo dare ka
Tsukamaete goran yo
Ore wa
Sekai ichi jiyuu
Just call me SONIC

There's no time to be standing still
Because there's something to be chasing after tomorrow
Nor to regret in that time, for night will soon fall.

Living is like an unending race
It's the goal you can't see within your heart

Becoming the radiant wind
Creating a storm that runs past the world

Gotta keep on running!
You know I'm SONIC

When my heart is feeling down,
Even I can become blue, but
I don't want to give up, it's not the end, that gives me the energy.

Even if I twist my ankle, even if it looks like I'll fall, I will run;
As long as my strong heart is there.

Becoming the radiant wind
Creating a storm that runs past the world
Gotta keep on running!
You know I'm SONIC

I would like to see
Someone try to catch me.
For I'm the freest in the world
Just call me SONIC

It's alright even if it's sprained,
for I'll be able to get up once more
As long as my strong heart is there.

Becoming the radiant wind,
Creating a storm that brings the future
Gotta keep on running!
You know I'm SONIC

If I hold on to this dream,
I'd like to see you catch me.
For you too will become
The fastest wind.

Becoming the radiant wind
Creating a storm that runs past the world
Gotta keep on running!
You know I'm SONIC

I would like to see
Someone try to catch me.
For I'm the freest in the world
Just call me SONIC
Video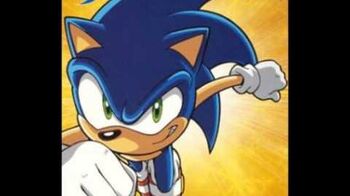 References
External links