This article is about a subject in the real world.
Information in this article is about real-life people, companies, and objects, and does not relate to the in-universe Sonic series.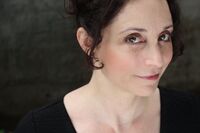 Karen Neill was the stage name of Nell Balaban, who is the English voice actor for additional voices in Sonic X, such as the computer voice of Area 99.
Other roles
Ah! My Goddess - Sayoko Mishima
Ah! My Goddess: Flights of Fancy - Sayoko Mishima
One Piece - Nefertari Vivi (4Kids)
Pokemon Advance - Roxanne (eps 15-16), Miranda (eps 44-45), Dr. Abby (ep 60), Mrs. Grimm (eps 61-62), Caroline (eps 69-132), Evelyn (ep 94), Elisa (ep 106)
Teenage Mutant Ninja Turtles (2003) - Karai
Yu-Gi-Oh! - Ishizu Ishtar, Isis
Yu-Gi-Oh! Zexal - Mrs. Andrews
External links
Former English Voice Actors