This article is about a subject in the real world.
Information in this article is about real-life people, companies, and objects, and does not relate to the in-universe Sonic series.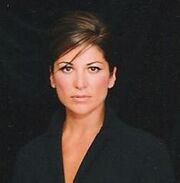 Kaz Silver is the performer of the Sonic Adventure 2 version of Tails' theme, "Believe In Myself".
Acting career
She is a musician who has also appeared in two animation shorts; "Babe, He Calls Me" and "Malcolm and Melvin".
Extenal links
Ad blocker interference detected!
Wikia is a free-to-use site that makes money from advertising. We have a modified experience for viewers using ad blockers

Wikia is not accessible if you've made further modifications. Remove the custom ad blocker rule(s) and the page will load as expected.