This article is about a subject in the real world.
Information in this article is about real-life people, companies and objects, and does not relate to the in-universe Sonic series.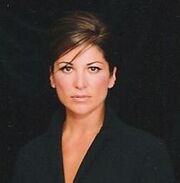 Kaz Silver is the performer of the Sonic Adventure 2 version of Tails' theme, "Believe In Myself".
Acting career
She is a musician who has also appeared in two animation shorts; "Babe, He Calls Me" and "Malcolm and Melvin".
Extenal Links
This article or section about the real world is a stub. You can help the Sonic News Network by expanding it!