This article is about a subject in the real world.
Information in this article is about real-life people, companies, and objects, and does not relate to the in-universe Sonic series.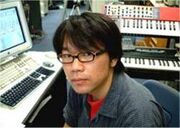 Kenichi Tokoi (床井 健一, Kenichi Tokoi?) is one of the composers of the music in the Sonic the Hedgehog series. He did work on Sonic Riders and Sonic Riders: Zero Gravity.
Career
He also worked alongside Tomoya Ohtani in Sonic Unleashed and Sonic Colors. He recently worked on Sonic Generations remixing some of his old tracks, such as Planet Wisp.
Ad blocker interference detected!
Wikia is a free-to-use site that makes money from advertising. We have a modified experience for viewers using ad blockers

Wikia is not accessible if you've made further modifications. Remove the custom ad blocker rule(s) and the page will load as expected.