This article is about a subject in the real world.
Information in this article is about real-life people, companies, and objects, and does not relate to the in-universe Sonic series.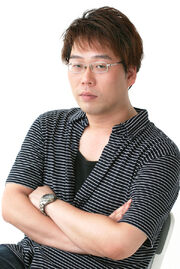 Kenji Nomura (乃村健次, Nomura Kenji?, born 23 July 1970) (nicknamed "Nomuchin") is a Japanese voice actor who voices Storm the Albatross, the Babylon Guardian, SCR-HD, SCR-GP and Master Core: ABIS in the Sonic Riders series.
External links
---
Main article | Gallery | Staff
Characters
Sonic (Super Sonic) | Tails | Knuckles | Jet | Wave | Storm | Amy | Dr. Eggman | Shadow | Rouge | Cream | E-10000G | E-10000R | Ulala | AiAi | NiGHTS | Omochao | Stolen | Jet's father | Babylon Guardian | E-10000Y
Courses/Fields
Heroes
Metal City | Splash Canyon | Egg Factory | Green Cave | Sand Ruins | Babylon Garden
Babylon
Night Chase | Red Canyon | Ice Factory | White Cave | Dark Desert | Sky Road | Babylon Guardian
Extra
Digital Dimension | Sega Carnival | Sega Illusion
Survival
Dual Towers | Snow Valley | Space Theater
Accelerator | Access | Advantage-F | Advantage-P | Advantage-S | Air Broom | Air Tank | Auto-Slider | BANANA | Beginner | Berserker | Blue Star | Blue Star II | Cannonball | Channel5 | Chaos Emerald | Cover-F | Cover-P | Cover-S | Darkness | Destroyer | E-gearG | E-gearR | E-Rider | Faster | Fastest | Gambler | Grinder | Hang-On | Heavy Bike | High Booster | Hovercraft | Legend | Light Board | Magic Carpet | Night Sky | Omnipotence | Opa Opa | Pink Rose | Power Gear | Powerful Gear | Red Rock | Rengoku | Slide Booster | Smile | Speed Balancer | Super Hang-On | Temptation | The Crazy | Trap Gear | Turbo Star | Type-J | Type-S | Type-W | Yellow Tail

Moves and techniques

Air Boost | Air Riding | Air Slide | Attacks | Grinding | Tornado | Trick Action

English voice actors

Jason Griffith (Sonic, Jet ) | Amy Palant (Tails) | Dan Green (Knuckles, Storm) | Bella Hudson (Wave, Babylon Computer) | Lisa Ortiz (Amy) | Mike Pollock (Dr. Eggman) | Kathleen Delaney (Rouge) | Rebecca Honig (Cream) | Maddie Blaustein (E-10000G, E-10000R, Babylon Guardian) | Liza Jacqueline (Omochao) | Kaoru Morota (AiAi) | Apollo Smile (Ulala)

Japanese voice actors

Jun'ichi Kanemaru (Sonic) | Ryō Hirohashi (Tails) | Nobutoshi Kanna (Knuckles) | Daisuke Kishio (Jet) | Chie Nakamura (Wave, Babylon Computer) | Kenji Nomura (Storm, Babylon Guardian) | Taeko Kawata (Amy) | Etsuko Kozakura (Omochao) | Kaoru Morota (AiAi) | Apollo Smile (Ulala)

Other

Accelerator | Air | Air Pit | Air Tank | Automatic Trail | Babylon Garden | Babylonians | Barricade | Bashōsen | Catapult | Catch Me If You Can | Chaos Emerald | Dash Panel | Emerald Detector | EX World Grand Prix | Flight Type | Freeze | Grind Rails | Item Box (Air, Explosion, High Speed, Invincible Barrier, Magnetic Barrier, Speed Down, Rings, Question Item) | Key to Babylon Garden | Power Type | Ring | Sonic Speed Riders | Speed Type | Speedbeats Grand Prix: Sonic Riders Original Soundtrack | Time Attack | Trick Zone | Turbulence
---
Main article | Gallery | Script (Heroes, Babylon) | Staff | Glitches
Characters
Sonic (Super Sonic) | Tails | Knuckles | Amy | Jet | Wave | Storm | Dr. Eggman | Cream | Rouge | Shadow | Silver | Blaze | SCR-GP | Amigo | NiGHTS | Billy Hatcher | SCR-HD | Master Core: ABIS
Courses/Fields
Heroes
Megalo Station | Botanical Kingdom | MeteorTech Premises | Aquatic Capital | Gigan Rocks | Crimson Crater | Astral Babylon | '80s Boulevard
Babylon
Gigan Device | Nightside Rush | Snowy Kingdom | MeteorTech Sparkworks | Tempest Waterway | Security Corridor | Mobius Strip | '90s Boulevard
Survival Battle
Gravity Pit | Labyrinth | Square Quartet
Survival Ball
MeteorTech Arsenal | Botanical Cave | Megalo Junction
Advantage F | Advantage P | Advantage S | Airship | Angel • Devil | Beginner | Big Bang | Bingo Star | Black Shot | Blue Star | Chaos Emerald | Cover F | Cover P | Cover S | E-Rider | Faster | Fastest | Flame Lance | G Shot | Gambler | GC Booster | GC Master | GP Accumulator | GP Tank | Hang-On | Hyperdrive | Kunoichi | Legend | Light Board | Mag | Magic Broom | Master Off-Road | Money Crisis | Night Sky | Omnitempus | Pink Rose | Power Egg | Psychic Wave | Rail Linker | Rainbow | Red Rock | Reserve Tank | Rhythm Machine | Road Star | Shinobi | Shooting Star | Skill Booster | Smile | Super Hang-On | Temptation | The Crazy | Throttle | Turbo Star | Type-J | Type-S | Type-W | Untouchable | Wanted | Wheel Custom | Wind Catcher | Wind Star | Yellow Tail
Air Ride | Angel/Devil | Attack Time UP | Auto Wall-Run | Base Stats UP | BGM Change | Bike | Durability UP | GC Boost UP | Ghost | GP Gain UP | GP Gauge UP | GP Usage UP | Grind | Item Rank +1 | Magnetic Barrier | Max Speed UP | Parts Lock | Ring Cap UP | Starting Speed UP | Status Trap | Tank | Throttle | Trick Rank +1 | Vision Trap | Wheel | Yacht

Moves and techniques

Air Ride | Attacks | Gravity Control | Gravity Dive | Grinding | Slide Turn | Trick

English voice actors

Jason Griffith (Sonic, Jet, Shadow) | Amy Palant (Tails) | Dan Green (Knuckles, Storm) | Bella Hudson (Wave, Mother computer) | Lisa Ortiz (Amy) | Mike Pollock (Dr. Eggman) | Kathleen Delaney (Rouge) | Pete Capella (Silver) | Rebecca Honig (Cream) | Andrew Paull (SCR-HD, SCR-GP, Master Core: ABIS)

Japanese voice actors

Jun'ichi Kanemaru (Sonic) | Ryō Hirohashi (Tails) | Nobutoshi Kanna (Knuckles) | Daisuke Kishio (Jet) | Chie Nakamura (Wave, Mother computer) | Kenji Nomura (Storm, SCR-HD, SCR-GP, Master Core: ABIS) | Taeko Kawata (Amy) | Koji Yusa (Shadow) | Rumi Ochiai (Rouge) | Daisuke Ono (Silver) | Nao Takamori (Blaze)

Other

Ark of the Cosmos | Babylon Garden | Babylonians | Barricade | Bashōsen | Car | Catapult | Catch Me If You Can | Crimson Tower | Crusher | Dash Panel | Dash Ring | Gravity Point | Grind Rails | Havok | Item Box (Attack, Colorball, Explosion, GP Boost, High Speed, Magnetic Barrier, Missile, Parts Lock, Ring, Speed Down) | Monopole | Mother computer | Ring | Slipstream | Time Attack | Time item | Trick Zone | Un-Gravitify | World Grand Prix | Zero Gravity Tracks: Sonic Riders Shooting Star Story Original Soundtrack
---
Main article | Gallery | Staff | Scripts (Introduction, Team Heroes, Team Babylon, Team Dark, Team Rose, Final Race)
| | |
| --- | --- |
| Characters | Sonic (Super Sonic) | Tails | Knuckles | Jet | Wave | Storm | Amy | Cream | Vector | Shadow | Rouge | E-10000B | E-10000G | Silver | Blaze | Dr. Eggman | Metal Sonic | Xbox Live Avatar |
| Courses | Dolphin Resort | Rocky Ridge | Frozen Forest | Metropolis Speedway | Magma Rift | Forgotten Tomb | Final Factory | Metal City |
| Extreme Gears | Angel • Devil | Auto-Slider | Avatar-F | Avatar-M | Beginner | Black Shot | Blue Star | Chaos Emeralds | E-Gear | E-Rider | Explosion | Fastest | Flame Lance | Fortress | Gambler | Hang-On | Hard-Boiled | High Booster | Legend | Metal Star | Omnitempus | Pink Rose | Potential | Professional | Psychic Wave | Red Rock | Reserve Tank | Smile | Steel | Super Hang-On | Temptation | The Crazy | Turbo Star | Type-J | Type-S | Type-W | Wanted | Yellow Tail |
| | Air Plus | Air Ride Skill | Air Saver | Big Air | Cornering UP | Durability UP | Extra Air | Grind Skill | Invisible | Item Lock: Air | Item Lock: Rings | Max Speed UP | Music Change 1 | Music Change 2 | Power Skill | Rapid Dash | Rapid Stream | Ring Eater | Start Speed UP | Trick Boost |
| Moves and techniques | Air Ride | Attacks | Grinding | Kick Dash | Trick Action |
| English voice actors | Roger Craig Smith (Sonic) | Mike Pollock (Eggman) | Kate Higgins (Tails, Wave) | Travis Willingham (Knuckles, Storm) | Mike Mycheck (Jet) | Kirk Thornton (Shadow) | Karen Strassman (Rouge) | Wally Wingert (E-10000B, E-10000G) | Cindy Robinson (Amy) | Michelle Ruff (Cream) | Keith Silverstein (Vector) | Quinton Flynn (Silver) | Laura Bailey (Blaze, Omochao) |
| Japanese voice actors | Jun'ichi Kanemaru (Sonic) | Ryō Hirohashi (Tails) | Nobutoshi Kanna (Knuckles) | Daisuke Kishio (Jet) | Chie Nakamura (Wave) | Kenji Nomura (Storm) | Koji Yusa (Shadow) | Rumi Ochiai (Rouge) | Taeko Kawata (Amy) | Sayaka Aoki (Cream) | Etsuko Kozakura (Omochao) | Kenta Miyake (Vector) | Daisuke Ono (Silver) | Nao Takamori (Blaze) |
| Other | Air | Air Gauge | Barricade | Bobsled | Break Free: Sonic Free Riders Original Soundtrack | Catapult | Dash Ring | Free | Grind Rail | I'm Still a Believer | Item Box (Bowling Strike, Free Throw, Octo-Boost, Octo-Ink, Ring Can, Soda Rocket, Target Torpedo, Tee Shot) | Minecart | Shake It Baby | Shake It, Don't Break It | Time Attack | World Grand Prix |