This article is about a subject in the real world.
Information in this article is about real-life people, companies, and objects, and does not relate to the in-universe Sonic series.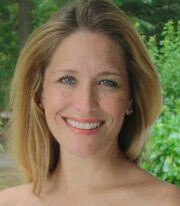 Kerry Williams (born June 15, 1973) is a voice actor who works on the properties of 4Kids Entertainment. Kerry Williams grew up in the Tidewater area of Virginia and has worked in Florida, Japan and California as a dancer prior to pursuing a career in New York City. She is most famous for voicing Nami in One Piece, Rebecca Hawkins (Rebecca Hopkins) in Yu-Gi-Oh!, Fumu/Tiff in Kirby: Right Back at Ya! and Flora in Winx Club. She voices Frances in Sonic X.
Mediagraphy
Chaotic - Codemaster Amzen
Dinosaur King - Polly
Kirby: Right Back at Ya!- Tiff
Magical DoReMi - Josie Harlington
Mewtwo Returns - Domino
Now and Then, Here and There – Soon
One Piece (4Kids edit) - Nami
Pokémon - Casey, Sakura, Jirachi, Domino, others
Shaman King - Ellie of The Lily Five
Shaman King: Power of Spirit - Maril
Ultimate Muscle: The Kinnikuman Legacy
Yu-Gi-Oh! - Rebecca Hawkins
Yu-Gi-Oh! Capsule Monsters
Winx Club (4Kids edit) - Flora, Amore
Former English Voice Actors