The Klagen (クラゲン, Kuragen?) is an enemy in the Sonic the Hedgehog series. It is a mass-produced, jellyfish-based Badnik created by Dr. Eggman.
Appearance
Klagens are gray robots with purple and cyan coloration that appear to resemble jellyfish. It has a UFO-like disc for a head that has a single purple eye, and two arms that hang down with a disc at the end of each arm.
Game appearances
Sonic Heroes
In Sonic Heroes, the Klagen will approach the player upon getting in range. If it hovers over a character, it will capture said character by suspending them in mid-air with a tractor beam. Each Klagen can only capture one character at a time. When captured, that character cannot be switched to, which is signified by a white restricted sign over the character's icon. If the leader is captured, the player will automatically switch to a random, available teammate. Once the player destroys the Klagen, the captured teammate will be usable again. However, if all three characters are captured by separate Klagens, the player will lose a life.
Sonic Rush
In Sonic Rush, Klagens are common enemies that can be found in Water Palace, though they are not able to capture characters in this game. Instead, they drop bombs on Sonic or Blaze, while the ones found underwater will generate electric shields to defend themselves.
Sonic Generations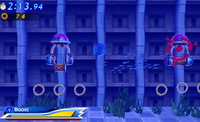 In the Nintendo 3DS version of Sonic Generations, the Klagens appear as enemies again. In this game, they are found in Water Palace. In gameplay, they retain their attack patterns from Sonic Rush.
In both Act 1 and Act 2 of the stage, they remain stationary on spots above underwater ground, holding their bomb. Once they spot the player, an exclamation mark displays above them. Then, they immediately leave their bomb to fall below them, causing a small explosion on the ground that is capable of damaging the player if they come with contact with it. After that, they instantly reload another bomb and so the mentioned pattern gets repeated.
In Act 1 of the Water Palace, they are rarely seen; being randomly scattered among the plentiful Gold Klagens. While in the second Act, they are more in number and mostly appear in groups.
Variant
There is a gold variant that teleports the captured team member to a location farther ahead in the level after a set period of time in captivity. Tails' description of this robot is "If that Gold Robot captures one of us it will take them away, we have to destroy it before any of us get caught".
In other media
Archie Comics
In the Sonic the Hedgehog comic series published by Archie Comics, several Klagens appeared in Sonic the Hedgehog #268, while two more appeared in Sonic the Hedgehog #269. They worked as bodyguards under the supervision of Scratch at Breeze Media.
Trivia
The Normal Klagen has a time of about twenty to thirty seconds before it releases the captured team member.

Sometimes the Klagen's programming will glitch and it will keep the Team Member forever, until either the area is left or the robot is destroyed.
Gallery
Screenshots
---
Main article | Gallery | Beta elements | Staff | Glitches
Playable
characters
Team Sonic
Sonic | Tails | Knuckles
Team Rose
Amy | Cream | Cheese | Big
Team Dark
Shadow | Rouge | Omega
Team Chaotix
Espio | Charmy | Vector
Team Super Sonic
Super Sonic | Super Tails | Super Knuckles
Other characters
Eggman | Metal Sonic (Neo Metal Sonic) | Chocola | Froggy | Shadow Android
Enemies
Cameron | Egg Bishop | Egg Hammer | Egg Knight | Egg Magician | Egg Pawn | Egg Pawn (Casino version) | E-2000 | E-2000R | Falco | Flapper | Gold Cameron | Gold Klagen | Heavy-Egg Hammer | Klagen | Rhinoliner | Pumpkin ghost
Stages
1P stages
Sea Gate | Seaside Hill* | Ocean Palace | Grand Metropolis* | Power Plant | Casino Park | BINGO Highway* | Rail Canyon* | Bullet Station | Frog Forest* | Lost Jungle | Hang Castle | Mystic Mansion | Egg Fleet* | Final Fortress | Special Stage*
2P stages
City Top | Casino Ring | Turtle Shell | Egg Treat | Pinball Match | Hot Elevator | Seaside Course | City Course | Casino Course | Road Rock | Mad Express | Terror Hall
2P Play Mode
Action Race | Battle | Bobsled Race | Expert Race | Quick Race | Ring Race | Special Stage
Bosses
Egg Albatross | Egg Emperor | Egg Hawk | Metal Madness | Metal Overlord | Robot Carnival | Robot Storm | Team Chaotix | Team Dark | Team Rose | Team Sonic
Moves/
techniques
Speed
Maneuvers
Homing Attack | Kick | Light Dash | Propeller Hammer | Rocket Accel | Shuriken | Spin | Swinging Hammer Attack | Tornado Jump (Black Tornado, Blue Tornado, Leaf Swirl, Tornado Hammer) | Triangle Jump
Power
Maneuvers
Auto Homing | Body Press | Bubblegum Descent | Fire Combination | Fire Dunk | Fire Launcher | Fireball Jump | Forward Power Attack | Hammer Down | Jump Fire Knock | Jump Fireball | Remote Power Attack (Fireball, Fire Knock) | Triangle Dive | Umbrella Descent | Wide Power Attack (Big Fishing, Omega Arm, Vector Breath, Volcanic Dunk)
Fly
Maneuvers
Ascending Flight | Cheese Attack | Dummy Ring Bomb | Sting Attack | Thunder Shoot | Quick Ascent
Team Blast
Sonic Overdrive | Chaos Inferno | Flower Festival | Chaotix Recital | Super Sonic Power
Misc.
Crouch | Crystal Attack | Grind Step | Grinding | Jump Dash | Lightspeed Attack | Spin Jump
English voice actors
Ryan Drummond (Sonic, Metal Sonic) | Deem Bristow (Eggman) | William Corkery (Tails) | Scott Drier (Knuckles) | David Humphrey (Shadow) | Lani Minella (Rouge, Omochao) | Jon St. John (Omega, Big) | Jennifer Douillard (Amy) | Sarah Wulfeck (Cream) | Bill Corkery (Espio) | Marc Biagi (Vector) | Emily Corkery (Charmy)
Japanese voice actors
Jun'ichi Kanemaru (Sonic the Hedgehog, Metal Sonic) | Chikao Ōtsuka (Eggman) | Ryō Hirohashi (Tails) | Nobutoshi Kanna (Knuckles) | Kōji Yusa (Shadow) | Rumi Ochiai (Rouge) | Taiten Kusunoki (Omega) | Taeko Kawata (Amy) | Sayaka Aoki (Cream) | Takashi Nagasako (Big) | Yūki Masuda (Espio) | Kenta Miyake (Vector) | Yōko Teppōzuka (Charmy) | Etsuko Kozakura (Omochao)

OST

/

Vocal Trax

/

Official

/

20th Anniversary

Sonic Heroes | We Can | This Machine | Follow Me | Team Chaotix | What I'm Made of...
Other
Armored train | Ball Switch | Bingo | Bobsled | Bomb | Bumper | Bumper wall | Cage | Cannon | Capsule | Car | Casino chip | Castle Key | Cell Key | Chaos Emerald | Check Point | Container (Cage) | Conveyor Belt | Dash Panel | Dash Rail | Dash Ring | Detonator Switch | Dummy Ring | Egg Bazooka | Egg Fleet | Egg Gun | Egg Spear | Emblem | Engine Core | Fan | Fireball | Flipper | Flower | Fly Type | Formation Change Gate | Giant Frog | Giant Switch | Goal Ring | Grind Rail | Haunted Towers | Health Gauge | Hermit crab | HEXAeco | Hint Ring | Iron ball | Item Box (Barrier, Fly Charge, High Speed, Invincible, Rings, Power Core, Team Blast Ring, 1-Up) | Jump Panel | Kao | Laser field | Light spider marking | Mushroom | Orb switch | Palm Plants | Pole | Power Gong | Power Type | Propeller | Pulley | Sonic Heroes Puzzle | Rainbow Ring | Rank | Ring | Shuttle loop | Slot machine | Speed Type | Special Stage Key | Sphere | Super Hard Mode | Switch | Target Switch | Team Blast Gauge | Torch | Trolley | Vine | Warp Flower | Weight | Wide spring

*Stage is also playable in 2P Battle mode.
---
Main article | Gallery | Staff | Glitches
| | |
| --- | --- |
| Characters | Sonic (Super Sonic) | Tails | Knuckles | Amy | Cream | Vanilla | Blaze (Burning Blaze) | Dr. Eggman | Dr. Eggman Nega | Animals (Camel, Cat, Elephant, Gorilla, Koala, Kangaroo, Lion, Mole, Monkey, Parrot, Peacock, Penguin, Rabbit, Seal, Skunk, Swallow) | Flicky | Ricky | Pocky | Wocky |
| Stages | Leaf Storm | Water Palace | Mirage Road | Night Carnival | Huge Crisis | Altitude Limit | Dead Line | Unknown | Exception | Special Stages* |
| Enemies | Battle Flapper | Bomb Hawk | Cannon Flapper | Egg Bishop | Egg Diver | Egg Hammer | Egg Pawn | Egg Pawn (spear) | Egg Pawn Bunny | Egg Pawn Manager (gun) | Egg Pawn Manager (SF gun) | Falco | Flapper | Gun Hunter | Klagen | Laser Flapper | Rhino Spring | Solid Pawn |
| Bosses | Egg Hammer Mega | Egg Turtle | Egg Scarab | Egg Libra | Egg Hammer Fortress | Egg Eagle | Sonic/Blaze | Egg King | Egg Salamander |
| Moves/techniques | Axel Jump | Axel Tornado | Boost Mode | Burning Fire Boost | Burst Dash | Burst Hover | Fire Boost | Homing Attack | Hop Jump | Humming Top | Jump Dash | Jump Step | Spin Dash | Spin Jump | Super Boost | Super Sonic Boost | Trick Action |
| English voice actors | Jason Griffith (Sonic) | Mike Pollock (Eggman, Eggman Nega) | Amy Palant (Tails) | Rebecca Honig (Cream) | Bella Hudson (Blaze) |
| Japanese voice actors | Jun'ichi Kanemaru (Sonic) | Chikao Ōtsuka (Eggman, Eggman Nega) | Ryo Hirohashi (Tails) | Sayaka Aoki (Cream) | Nao Takamori (Blaze) |
| Original Groove Rush | A New Day | Right There, Ride On | Back 2 Back | Ethno Circus | Ska Cha Cha | Jeh Jeh Rocket | Get Edgy | What U Need | Metal Scratchin' | Vela Nova | Bomber Barbara | Wrapped in Black | Raisin' Me Up |
| Other | Air Bubbles | Blaze's world | Bungee Rope | Cannon | Chaos Emerald | Checkpoint Marker | Corkscrew loop | Dash Panel | Dash Rail | Dash Ring | Electric Generator | Giant Waterwheel | Goal Ring | Hang Glider | Health Gauge | High-speed warp tube | Item Box (Super Ring, Shield, Lightning Shield, Invincibility, Tension Bonus, Max Tension Bonus, Slow, Attract, Confusion) | Jump Panel | Rainbow Ring | Real-Time Interaction | Ring | Shuttle loop | Sol Emerald | Special Generator* | Spring Pole | Switch | Time Attack | Tension Gauge | Winding Rope | Zip Line |