Knights of the Underworld
Talk

0
6,665pages on
this wiki
Not to be confused with the Knights of the Round Table.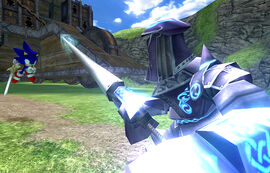 The Knights of the Underworld (黄泉の騎士団, Yomi no kishi-dan?) are King Arthur's "conventional" forces in Sonic and the Black Knight; the variety of enemy that Sonic dispatches over the course of his adventure.
Description
Edit
They are creatures of black magic, and come in a vast array of different forms: from humanoid sword-and-shield-wielding warriors to strange helmeted flying fish and swarms of purple and black bladed spiders.
As shown in the game's opening sequence, the Knights of the Underworld are summoned to Grand Kingdom by King Arthur's sword, Deathcalibur. During Sonic and the Black Knight's game stages, the Knights frequently warp out of thin air with a flash of black light, and dissolve after Sonic dispatches them with Caliburn.
It should be noted that the Knights of the Underworld appear impervious to Sonic's standard jump attack, indicating that it is the magical power of Caliburn which banishes them, as opposed to mere physical damage. The Knights can also be defeated with strong sunlight reflected off Caliburn's blade, as seen in Crystal Cave.
Soldier-Ones

Sword Wielders (Some have wooden/Steel Shields)
Spear Wielders (Blue highlights in armor; Mostly seen charging at Sonic; some are immobile and try to stab at Sonic)
Crossbow Wielders (Purple highlights in armor)
Axe Wielders (Green highlights in armor; Some have Steel Shields)
Lance Wielders (?) (cavalry?)

Giant-Ones (Takes multiple hits to defeat; number of hits needed to defeat decreases with Giant Killer ability)
Crawling-Ones
Arachnids
Fish-Ones
Eyeball-Ones (Lasers can be guarded against)