This article is about a subject in the real world.
Information in this article is about real-life people, companies, and objects, and does not relate to the in-universe Sonic series.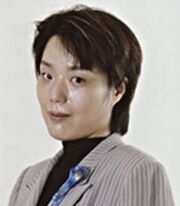 Wakako Matsumoto (松本 和香子, Matsumoto Wakako?) (born 1 April 1961 - ), better known as Kujira (くじら, Kujira?), is a Japanese seiyū from the Tokyo Metropolis area. She is employed by 81 Produce. Veteran seiyū Shigeru Chiba, another member of 81 Produce, gave Kujira her nickname (meaning "whale").
Kujira's distinctive voice is described as hoarse and androgynous. Thus, many of her characters are middle-aged. Her best-known roles are Ella of Sonic X, Otose of Gin Tama, and Orochimaru, an antagonist of Naruto.
References
Former Japanese Voice Actors
Ad blocker interference detected!
Wikia is a free-to-use site that makes money from advertising. We have a modified experience for viewers using ad blockers

Wikia is not accessible if you've made further modifications. Remove the custom ad blocker rule(s) and the page will load as expected.