Laser Blaster
Talk

0
8,853pages on
this wiki
The Laser Blaster (参式レーザーガン[1]/拡散ミサイル[2], San-shiki rēzāgan/Kakusan misairu?) is an optional upgrade available for E-102 Gamma in Sonic Adventure and Sonic Adventure DX: Director's Cut, and later for Miles "Tails" Prower and Dr. Eggman in Sonic Adventure 2 and Sonic Adventure 2: Battle.
Description
The Laser Blaser is a weapon enhancer that which differs in appearance between each user. For Gamma, the Laser Blaser is a small tri-barrel cannon that can be equipped on the front of Gamma's homing missile launcher. For Tails, the Laser Blaser is medium-sized laser cannon that is placed entirely over the missile launcher located on the rear of Tails' Cyclone. For Eggman, the Laser Blaser is similar to Tails' version, but much larger and imposing and is placed entirely over the missile launcher on the left side of the Egg Walker.
When equipped, it allows the user's Lock-On Missiles to release violent explosions upon contact, thus damaging enemies that are near the target as well.
Game Appearances
Sonic Adventure
In Sonic Adventure the Laser Blaster is found within the Egg Carrier, in the Egg Carrier Adventure Field. It is located in the water reservoir that is found in the room on the opposite side of the armory in the Egg Carrier's main room. However it cannot be obtained before the water pool is drained, which happens after the Egg Carrier crashes into the ocean in E-102 Gamma's story. Once this has happened, the player should head back to the Egg Carrier and into the room where the Laser Blaster is located. The water will now be gone and the Laser Blaster can be obtained.
Sonic Shuffle
In Sonic Shuffle, Laser Blaster is Gamma's Special Attack when in Battle. This makes it more unique as Laser Blaster is not an item, it is an Attack.
Sonic Adventure 2
Tails
Tails' version of the Laser Blaster is located in Prison Lane, in a room behind a set of bars, next to the Goal Ring. To obtain this upgrade, Tails has to possess the Bazooka, which is needed to break the iron crates that blocks the path to the room. In order to open the bared room, Tails has to destroy the Gun Beetle which is hiding in the upper left-hand corner. This will open the cage and the Laser Blaster can be obtained.
Dr. Eggman
Dr. Eggman's version of the Laser Blaster is located in Iron Gate. In order to obtain the Laser Blaster it is necessary to have obtained the Large Cannon. Right after passing the second Star Post, there will be a room with four ring jars and in front of that room there are two water tanks. One needs to destroy them and it will reveal four iron containers. The Laser Blaster can be found behind them after they are destroyed.
Appearances in Other Media
Archie Comics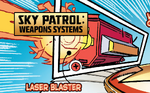 The Laser Blaster makes an appearance in the Sonic the Hedgehog comic series and its spin-offs published by Archie Comics. In this media, it is one of the weapons for the New Freedom Fighters' Sky Patrol and resembles Dr. Eggman's version from Sonic Adventure 2 and Sonic Adventure 2: Battle. It was first deployed to destroy the War Walrus when it was send to destroy the Sky Patrol.
Trivia
The Laser Blaster is the only upgrade to return from a previous game, yet not be used by the same character that used it in its debut game.
Gallery
References
↑ The Laser Blaster's japanese name in Sonic Adventure.
↑ The Laser Blaster's japanese name in Sonic Adventure 2.
Sonic Adventure

/

Remake

/

DLC

/

Beta Elements

Characters
Sonic (Super Sonic) | Tails | Knuckles | Amy | E-102 Gamma | Big | Eggman | Chaos | Froggy | Tikal | Pachacamac | Chao | Metal Sonic* | Cream* | Silver Sonic II* | Chao
E-00 Series
Baby Kiki | Rhinotank | Sweeper | Leon | Boa-Boa | Spinner | Ice Ball | Kart Kiki | Buyoon | Cop Speeder | Spiky Spinner | Electro Spinner | Ghora | Egg Keeper | Beat | Mecha Fish | Egg Pirate
E-100 Series
Beta (Mark II) | Gamma | Delta | Epsilon | ZERO | Zeta
Locations
Adventure Fields
Egg Carrier | Mystic Ruins | Station Square
Chao Gardens
Station Square Garden | Mystic Ruins Garden | Egg Carrier Island
Misc.
Angel Island | Black Market | Chao Stadium | Tails' Lab
Action Stages
Emerald Coast | Windy Valley | Casinopolis | IceCap | Sky Chase | Twinkle Park | Speed Highway | Red Mountain | Sky Deck | Lost World | Hot Shelter | Sand Hill | Twinkle Circuit | Final Egg
Bosses
Chaos 0 | Chaos 2 | Chaos 4 | Chaos 6 | E-101 Beta | E-101 Mark II | E-102 Gamma | E-103 Delta | E-104 Epsilon | E-105 Zeta | Egg Carrier | Egg Hornet | Egg Viper | Egg Walker | Perfect Chaos | ZERO
Moves/Techniques
Climb | Dig | Flight Mode | Propeller Flight | Glide | Hammer Attack | Hammer Jump | Hover | Homing Attack | Homing Missile Launch | Jump Attack | Laser Gun | Light Speed Attack | Light Speed Dash | Lightning Bolt | Lure Attack | Maximum Heat Knuckles Attack | Punch Attack | Rapid Tails Attack | Spin Hammer Attack | Spin Dash | Spin Jump | Tails Attack

Level Up Items

Ancient Light | Crystal Ring | Fighting Gloves | Jet Anklet | Jet Booster | Laser Blaster | Life Belt | Light Speed Shoes | Long Hammer | Lure | Power Rod | Rhythm Badge | Shovel Claw | Warrior Feather
English Voice Actors
Ryan Drummond (Sonic) | Corey Bringas (Tails) | Michael McGaharn (Knuckles) | Deem Bristow (Eggman) | Jennifer Douillard (Amy) | Jon St. John (Big) | Elara Distler (Tikal, Station Square Train Voice, Default Menu Voice) | Steve Broadie (Gamma, Pachacamac, Mystic Ruins Train Voice) | Tomoko Sasaki (Chao)
Japanese Voice Actors
Jun'ichi Kanemaru (Sonic) | Kazuki Hayashi (Tails) | Nobutoshi Kanna (Knuckles) | Chikao Ōtsuka (Eggman) | Taeko Kawata (Amy) | Shun Yashiro (Big) | Kaori Asō (Tikal) | Jōji Nakata (Gamma) | Tōru Ōkawa (Pachacamac) | Kaho Kōda (Station Square Train Voice) | Nobutoshi Kanna (Mystic Ruins Train Voice) | Elara Distler (Default Menu Voice) | Tomoko Sasaki (Chao)

Original Soundtrack

/

Remix

/

Vocal Mini Album

/

20th Anniversary

/

Passion & Pride

Believe In Myself | It Doesn't Matter | Lazy Days | My Sweet Passion | Open Your Heart | Unknown from M.E.

Other
Air Bubbles | Auto Running | Bumper | Cannon | Capsule | Chao Eggs | Chaos Emerald | Chao in Space | Chao Machine | Conveyor Belt | Corkscrew Loop | Dash Panel | Dash Ring | Debug Mode | Egg Carrier 2 | Emblem | Emerald Radar | Emerald Shard | Employee ID Card | Flipper | Gallery | Balloon | Hedgehog Hammer | Jump Panel | Item Box (Bomb, Extra Life, Invincibility, Lightning Shield, Power Sneakers, Shield, Super Ring) | Key Stone (Gold Statue, Ice Stone, Silver Statue, Wind Stone) | Mission Mode | Monkey Destruction Switch | Mr. Know-It-All | Pinball Shooter | Power cube | Ramp | Ring | Rocket | Sandboard | Shuttle Loop | Sky-Chase Dragon | Slot Machine | Snowboard | Sonic Token | Station Square Police | Switch | Target Dolls | Teleporter | Tornado | Tornado 2 | Twinkle Circuit Hover Car | Wind Path | Zip Line

*Exclusive to Sonic Adventure DX.