The Laser Blaster (参式レーザーガン[1]/拡散ミサイル[2], San-shiki rēzāgan/Kakusan misairu?, lit. "Participation-type laser gun"/"diffusion missile") is an optional Level Up Item available for E-102 Gamma in Sonic Adventure and Sonic Adventure DX: Director's Cut, and later for Miles "Tails" Prower and Dr. Eggman in Sonic Adventure 2 and Sonic Adventure 2: Battle.
Description
The Laser Blaster is a weapon enhancer that which differs in appearance between each user. For Gamma, it is a small tri-barrel cannon that can be equipped on the front of Gamma's homing missile launcher. For Tails, the Laser Blaster is medium-sized laser cannon that is placed entirely over the missile launcher located on the rear of Tails' Cyclone. For Eggman, it is similar to Tails' version, but much larger and imposing and is placed entirely over the missile launcher on the left side of the Egg Walker.
When equipped, the Laser Blaster allows the user's Lock-On Missiles to release violent explosions upon contact, thus damaging enemies that are near the target as well.
Game appearances
Sonic Adventure
In Sonic Adventure the Laser Blaster is found within the Egg Carrier. It is located in the water reservoir that is found in the room on the opposite side of the armory in the Egg Carrier's main room. However it cannot be obtained before the water pool is drained, which happens after the Egg Carrier crashes into the ocean in E-102 Gamma's story. Once this has happened, the player should head back to the Egg Carrier and into the room where the Laser Blaster is located. The water will now be gone and the Laser Blaster can be obtained.
Sonic Adventure 2
Tails
Tails' version of the Laser Blaster is located in Prison Lane, in a room behind a set of bars next to the Goal Ring. To obtain this Level Up Item, Tails must possess the Bazooka, which is needed to break the iron crates that blocks the path to the room. In order to open the barred room, Tails has to destroy the Gun Beetle which is hiding in the upper left-hand corner. This will open the cage and the Laser Blaster will be available for the player to collect.
Dr. Eggman
Dr. Eggman's version of the Laser Blaster is located in Iron Gate. To obtain this Level-Up Item, the Large Cannon must have been previously collected. Right after passing the second Star Post, there will be a room with four ring jars. In front of that room there are two water tanks. The player needs to destroy them, and doing this will reveal four iron containers. The Laser Blaster can be found behind them after they are destroyed.
In other media
Archie Comics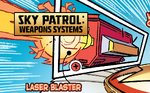 The Laser Blaster makes an appearance in the Sonic the Hedgehog comic series and its spin-offs published by Archie Comics. In this media, it is one of the weapons of the Freedom Fighters' Sky Patrol and resembles Dr. Eggman's version from Sonic Adventure 2 and Sonic Adventure 2: Battle. It was first deployed to destroy the War Walrus when it was sent to destroy the Sky Patrol.
Trivia
The Laser Blaster is the only Level Up Item to return from a previous game, yet not be used by the same character that used it in its debut game.
Gallery
References
↑ The Laser Blaster's Japanese name in Sonic Adventure.
↑ The Laser Blaster's Japanese name in Sonic Adventure 2.
---
Main article | Gallery | Beta Elements | Staff | Glitches | Re-releases (DX | 2010)
Scripts (Sonic, Tails, Knuckles, Amy, Big, Gamma, Super Sonic)
Playable characters
Sonic (Super Sonic) | Tails | Knuckles | Amy | E-102 Gamma | Big | Metal Sonic*
Other characters
Dr. Eggman | Beta (Mark II) | Chao | Chaos (Chaos 1, Chaos 2, Chaos 4, Chaos 6, Perfect Chaos) | Cream* | Delta | Epsilon | Froggy | Grandma | Mr. Know-It-All | Pachacamac | Tikal | Unnamed Sonic robot* | ZERO | Zeta | Animals (Deer, Elephant, Gorilla, Kangaroo, Koala, Lion, Mole, Parrot, Peacock, Penguin, Rabbit, Seal, Sea Otter, Skunk, Swallow)
Adventure Fields
Egg Carrier | Mystic Ruins | Station Square
Action Stages
Emerald Coast | Windy Valley | Casinopolis | IceCap | Sky Chase | Twinkle Park | Speed Highway | Red Mountain | Sky Deck | Lost World | Hot Shelter | Sand Hill | Twinkle Circuit | Final Egg
Enemies
Beat | Bladed Spinner | Boa Boa | Buyoon | Cart Kiki | Cop Speeder | Egg Keeper | Electro Spinner | Fighter Aircraft A | Fighter Aircraft B | Gola | Ice Ball | Icecap's unnamed aircraft | Kiki | Leon | mechanical fish | Pirate | Rhinotank | Sky Deck's unnamed jet fighter | Spiky Spinner | Sweeper
Bosses
Chaos 0 | Chaos 2 | Chaos 4 | Chaos 6 | E-101 Beta | E-101 Mark II | E-102 Gamma | E-103 Delta | E-104 Epsilon | E-105 Zeta | Egg Carrier | Egg Hornet | Egg Viper | Egg Walker | Knuckles the Echidna | Perfect Chaos | Sonic the Hedgehog | ZERO
Moves/techniques
Arm Punch | Bolt of lightning | Bomb Attack | Bomb Gun Attack | Charge | Climb | Dig | Double Punch | Earthquake Attack | Electric Arm | Energy Ball Attack | Flame Thrower Attack | Flight Mode | Glide | Guiding Missiles | Hammer Attack | Hammer Jump | Hover | Homing Attack | Instantaneous Liquefaction | Laser Beam Attack | Homing Missile Launch | Homing Tail Slice | Inhale Attack | Jump Attack | Laser Gun | Light Speed Attack | Light Speed Dash | Lure Attack | Marble Attack | Maximum Heat Knuckles Attack | Phantom Shadow Move | Pick | Propeller Flight | Punch | Punch Attack | Quarter Attack | Rapid Tails Attack | Scorpion Attack | Shockwave Attack (Chaos 6) | Sonic Boom | Spin Attack | Spin Dash | Spin Hammer Attack | Spin Jump | Spinning Spike Attack | Spouting Attack | Squash Roll Attack | Swing Punch | Tails Attack
Gimmicks and obstacles
Bumper | Bumper Car | Cannon | Conveyor Belt | Crank | Dash Panel | Dash Ring | Drum Can | Explosion Trap | Fan | Flipper | Fountain | Goal Balloon | Hanging Bell | Helicopter | Hint Box | Hint Orb | Icicle | Iron ball | Jump Panel (plate) | Jump Panel (ramp) | Laser field | Lit Panel | Mirror | Monkey Detonation Switch | Power cube | Rocket | Satellite | Slot Machine | Spring | Spring Catapult | Switch | Teleporter | Trick Jump Panel | Wide Spring | Wind Path | Zip Line

Objects

General
Air Bubbles | Capsule | Cart pass | Chao Egg | Chaos Emerald | Doll | Emblem | Emerald Shard | Employee ID Card | Item Box (Bomb, Extra Life, Invincibility, Lightning Shield, Power Sneakers, Shield, Super Ring) | Key Stone (Gold Statue, Ice Stone, Silver Statue, Wind Stone) | Point Marker | Ring | Sandboard | Snowboard | Sonic Token
Level Up Items
Ancient Light | Crystal Ring | Fighting Gloves | Jet Anklet | Jet Booster | Laser Blaster | Life Belt | Light Speed Shoes | Long Hammer | Lure | Power Rod | Rhythm Badge | Shovel Claw | Warrior Feather
English voice actors
Ryan Drummond (Sonic) | Corey Bringas (Tails) | Michael McGaharn (Knuckles) | Deem Bristow (Eggman) | Jennifer Douillard (Amy) | Jon St. John (Big) | Elara Distler (Tikal, Station Square Train Voice, Default Menu Voice) | Steve Broadie (Gamma, Pachacamac, Mystic Ruins Train Voice) | Tomoko Sasaki (Chao)
Japanese voice actors
Jun'ichi Kanemaru (Sonic) | Kazuki Hayashi (Tails) | Nobutoshi Kanna (Knuckles) | Chikao Ōtsuka (Eggman) | Taeko Kawata (Amy) | Shun Yashiro (Big) | Kaori Asō (Tikal) | Jōji Nakata (Gamma) | Tōru Ōkawa (Pachacamac) | Kaho Kōda (Station Square Train Voice) | Nobutoshi Kanna (Mystic Ruins Train Voice) | Elara Distler (Default Menu Voice) | Tomoko Sasaki (Chao)

Original Soundtrack

/

Remix

/

Vocal Mini Album

/

20th Anniversary

/

Passion & Pride

Believe In Myself | It Doesn't Matter | Lazy Days | My Sweet Passion | Open Your Heart | Unknown from M.E.

Other
777 Slots Pinball | Angel Island | Auto Running | Black Market | Card & Pinball | Chao Garden (Station Square Garden, Mystic Ruins Garden, Egg Carrier Island) | Chao Stadium | Chao in Space | Chao Machine | Chao Search* | Corkscrew loop | Debug Mode | E-100 Series | Egg Carrier | Egg Carrier 2 | Emerald Radar | Freeze | Hedgehog Hammer | Life gauge | Mission Mode | Mystic Ruins | Shrine of Knuckles's race | Shuttle loop | Sonic Adventure (LCD) | Station Square | Station Square Police Department | Tails' Lab | Tornado | Tornado 2 | Transporter Machine

*Exclusive to Sonic Adventure DX: Director's Cut.
---
Main article | Gallery | Script | Staff
Characters
Sonic (Super Sonic) | Tails | Knuckles | Amy | Gamma | Big | Chao | Dr. Eggman* | Lumina Flowlight* | Illumina* | Void* | NiGHTS*
Boards
Emerald Coast | Fire Bird | Fourth Dimension Space | Nature Zone | Riot Train
Mini-Games
Vs 4
Egg & the Chicken | Egg in Space | Frosty Rumble | Fun Fun Sonic | Great Escape | Jump the Snake | Over the Bridge | Number Jump | Over the Rainbow | Psychic Sonic | Shadow Tag | Sonic Gun Slinger | Sonic Live | Sonic Tag | Sonic Tank | Sonicola | Stop and Go | Thor's Hammer | Tractor Beam Tag | Twister | Zero G Snap Shot
2 vs 2
Bomb Relay | Bucket-O-Rings | Shoddy Work | Sonic the Thief
1 vs 3
Bungee Jump | Eggbot's Attack! | Gargantua | Manic Maze | Sonic DJ | Sonicooking | Wrong Way Climb
Accidents
Crock-Attack | Final Frontier | Ring Lasso | Ring of Fire | Rapid Climb | Ring Tide | Sky Bridge | Sonic Parasol | Thru the Tunnel
Stage Clear
Earth Quake | Sky Diving | Sonic Surf | Stop the Train | Void Battle
Play Order
Sonic Darts | Sonic Hi Lo | Sonic Slot
Techniques/Moves
Climbing | Froggy | Gun | Hammer Jump | Hover | Light-speed Spin Dash | Light Speed Spin Attack | Lullaby | Maximum Heat Attack | Power Throw | Propeller Flight | Rapid Spin Attack | Roller Mode | Revolving Hammer Attack | Sonic Rumble | Spin Dash
Forcejewels
1 Force March | 6 Force March | Barrier Amber | Battle Ruby | Blockite | Carbuncle | Chamelionite | Curse Opal | Deletite | Duplichaos | Fivealive | Foolmoon | Geasdain | Hi-Speederald | Hypnotite | Lose Quartz | Low Moonstone | Magnifire | Maharajite | Max-Speederald | Medium | Packlite | Preciousite | Reducite | Ringidium | Shield Quartz | Shuffire | Sonic-Speederald | Speederald | Stopnite | Swap Jewel | Teleport Ruby | Thief's Eye | Transfire | Turbo-Speederald | Warp Crystal | Warponite | Wastone
Other
Card | Emblem | Magical Card | Maginaryworld | Maginaryworld Monsters | Mini-Event | Precioustone | Ring | Spaces (Battle Space, Eggman Battle Space, Event Space, Jewel Shop Space, Jump Space, Minus Ring Space, No Entry Space, Plus Ring Space, Precioustone Space, Quest Space, Revolving Space, Void Preciousstone Space) | Sonic Room | Spring | Temple of Light

*Not playable
---
Main article | Gallery | Beta elements | Staff | Glitches | Re-releases (Battle | 2012)
Playable characters
Sonic (Super Sonic) | Tails | Knuckles | Amy* | Shadow (Super Shadow) | Rouge | Eggman | Big*^ | Tikal* | Chaos* | Dark Chao Walker* | Chao Walker* | Metal Sonic*
Other characters
Chao (Dark Chao, Hero Chao, Chaos Chao) | Gerald | Maria | President | Secretary | Sigma-Alpha 2 | Animals (Bat, Bear, Boar, Cheetah, Condor, Dragon, Gorilla, Half Fish, Parrot, Peacock, Penguin, Phoenix, Rabbit, Raccoon, Seal, Sea Otter, Sheep, Skeleton Dog, Skunk, Tiger, Unicorn)

Stages

1P Stages
City Escape** | Wild Canyon** | Prison Lane | Metal Harbor** | Green Forest** | Pumpkin Hill** | Mission Street** | Aquatic Mine | Route 101 | Hidden Base** | Pyramid Cave | Death Chamber | Eternal Engine** | Meteor Herd** | Crazy Gadget | Final Rush** | Iron Gate** | Dry Lagoon** | Sand Ocean** | Radical Highway** | Egg Quarters** | Lost Colony** | Weapons Bed | Security Hall** | White Jungle** | Route 280 | Sky Rail** | Mad Space | Cosmic Wall** | Final Chase** | Cannon's Core | Green Hill
2P Stages
Downtown Race | Grind Race | Planet Quest | Pool Quest | Deck Race | Pyramid Race
Enemies
G.U.N.
Blue Eagle | Bomb Beetle | Bomb Wing | Gold Beetle | Gun Beetle | Gun Hawk | Gun Hunter | Gun Wing | Hornet-3 | Hornet-6 | Hornet-9 | Laser Hawk | Laser Hornet | Laser Hunter | Mono Beetle | Phoenix | Rhino Cannon | Rhino Jet | Rhino Metal | Rhino Spike | Shield Hunter | Sky Hawk | Spark Beetle | Spring Beetle
Badniks
Buzz Bomber | Chopper | E-1000 | Gola | Unidus | Kiki
Misc
Artificial Chaos (Artificial Chaos P-1, Artificial Chaos P-100, Cell, Float Type, Guard Type) | Boo | Boom Boo
Bosses
B-3x Hot Shot | Biolizard | Dr. Eggman | Egg Golem | F-6t Big Foot | Finalhazard | King Boom Boo | Knuckles | R-1/A Flying Dog | Rouge | Shadow | Sonic | Tails
Moves/techniques
Amy Flash* | Black Shield* | Black Wave* | Booming Missile* | Bounce Attack | Captive Light* | Chaos Bind* | Chaos Control | Chaos Impact* | Chaos Screw* | Chaos Spear | Chaos Strike* | Charm Ray* | Crazy Rush* | Crouch | Dark Finish* | Dark Omochao* | Dig | Drill Claw | Drill Drive | Fire Somersault | Glide | Grind Step | Grinding | Hammer Punch* | Heaven's Justice* | Hell Bomber* | Hip Drop* | Hover | Homing Attack | Jump Dash | Kick/Kick Attack | Knuckle Spin* | Laser Missile* | Light Attack | Light Speed Dash | Lock-on | Lock-On Missile | Magic Hands | Omochao | Pick | Power Flash* | Power Laser* | Propeller Punch | Punch (Eggwalker) | Punch/Punch Attack | Rocket Launcher | Rumble Launcher* | Screw Kick | Somersault | Sonic Wind* | Speed Up* | Spin Jump | Spin Dash | Spiral Upper | Storming Heart* | Super Sonic Boost | Swim | Thunder Arrow* | Time Stop* | Volkan Cannon | Wrath of Gaia* | Zap Laser*
Gimmicks and obstacles
Ancient Ruin | Ball Switch | Bungie Vine | Dash Panel | Dynamite | Egg Beetle | Gravity Control Switch | Green energy fluid | Grind Rail | GUN Military Truck | High-speed warp tube | Hint Box | Hourglass | Iron ball | Jump Plate | Laser field | Missile | Pipe | Propeller Spring | Pulley | Rocket | Spikes | Spinning drum | Swing Bar | Time Stop Switch | Turtle | Warp Hole | Warp Wall | Weight | Wide Spring

Objects

General
Chao Egg | Chao Key | Chaos Emerald | Chaos Drive | Container (Cage) | Emblem | Emerald Shard | Goal Ring | Item Box (Bomb, Extra Life, Health, Invincibility, Magnetic Barrier, Power Sneakers, Shield, Super Ring) | Key Stone (Gate Key) | Meteorite | Outfit | Ring | Snowboard
Level Up Items
Air Necklace | Air Shoes | Ancient Light | Bazooka | Booster | Bounce Bracelet | Flame Ring | Hammer Gloves | Iron Boots | Jet Engine | Large Cannon | Laser Blaster | Light Speed Shoes | Magic Gloves | Mystic Melody | Pick Nails | Protective Armor | Shovel Claw | Sunglasses | Treasure Scope
English voice actors
Ryan Drummond (Sonic) | Connor Bringas (Tails) | Scott Dreier (Knuckles/GUN Soldiers) | Jennifer Douillard (Amy Rose) | David Humphrey (Shadow the Hedgehog) | Lani Minella (Rouge/Omochao) | Deem Bristow (Doctor Eggman) | Moriah Angeline (Maria Robotnik) | Marc Biagi (Gerald/GUN Soldiers) | Steve Broadie (President) | Shelly Fox (Default menu voice) | Jon St. John (Big) | Elara Distler (Tikal) | Tomoko Sasaki (Chao)
Japanese voice actors
Jun'ichi Kanemaru (Sonic) | Kazuki Hayashi (Tails) | Nobutoshi Kanna (Knuckles) | Taeko Kawata (Amy) | Kōji Yusa (Shadow) | Rumi Ochiai (Rouge) | Chikao Ōtsuka (Eggman ) | Etsuko Kozakura (Omochao) | Yuri Shiratori (Maria) | Kinryū Arimoto (President) | Shun Yashiro (Big) | Shelly Fox (Default menu voice) | Tomoko Sasaki (Chao)

OST

/




Vocal Collection

/




Official

/

Sampler

/




20th Anniversary

/




Passion & Pride

A Ghost's Pumpkin Soup | Believe In Myself | Deeper | Dive into the Mellow | E.G.G.M.A.N. | Escape from the City | Fly in the Freedom | For True Story | It Doesn't Matter | Kick the Rock! | Live and Learn | My Sweet Passion | Rhythm And Balance | Space Trip Steps | Supporting Me | The Supernatural | Throw It All Away | Unknown from M.E. | Vengeance is Mine
Other
Angel Island | Auto Running | Black Market | Central City | Chao Adventure^ | Chao Adventure 2^ | Chao Garden (Dark, Hero, Neutral) | Chao in Space | Chao Kindergarten | Chao Machine | Chao Stadium | Chao Transporter^ | Chao World | Corkscrew loop | Cyclone | Eclipse Cannon | Eggman Bombom | Eggwalker | Emerald Radar | Fake Emerald | Gerald Robotnik's diary | Health Gauge | Hi-Speed Shoes | Kart Race | Prison Island | Project Shadow | Rank | Shuttle loop | Space Colony ARK | Station Square | Teleporter | Totem Pole | Winding Tunnel

*Appears or is playable only in the 2P mode
**Stage is also playable in 2P mode
^ Dreamcast version of Sonic Adventure 2 only