Lava Drill
Talk

0
7,440pages on
this wiki
This article's name is conjectural.
Although this article is based on official information, the actual name of the article's subject is pure conjecture.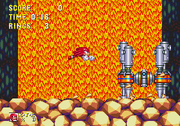 The Lava Drill is a robot built by Doctor Eggman. It appears in Lava Reef Zone Act 1 in Sonic & Knuckles.
History
It only appears twice, once in Sonic's story, once in Knuckles' story. In Sonic's story, it attempts to kill Sonic by dropping him into the lava but the Lava Drill falls into the lava instead and is destroyed. In Knuckles' story, it attempts the same thing but it stays on the upper platform and Knuckles drops, so that Lava Drill stays intact. There is also an extra life behind it.
Trivia