Ad blocker interference detected!
Wikia is a free-to-use site that makes money from advertising. We have a modified experience for viewers using ad blockers

Wikia is not accessible if you've made further modifications. Remove the custom ad blocker rule(s) and the page will load as expected.
You may be looking for the Sonic Rush zone, Leaf Storm.
Leaf Forest is the first Zone of Sonic Advance 2. Being the first Zone of the game, it has a Green Hill-like theme that is a recurring feature in the first stages of most Sonic video games.
Description
The background of this place seems to have giant green formations, most likely strangely formed mountains covered in moss or some type of plant life, or some type of stone formation with green coloring on it.
Trivia
Gallery
Music
Video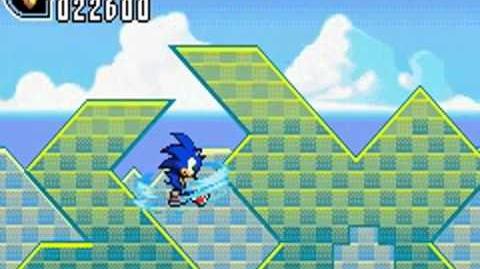 ---
Main article | Beta elements | Gallery | Staff
Characters
Sonic | Tails | Knuckles | Cream | Cheese | Vanilla | Amy | Dr. Eggman | Guard Robo | Chao | Animals (Deer, Elephant, Gorilla, Koala, Kangaroo, Lion, Parrot, Peacock, Penguin, Rabbit, Seal, Sea Otter, Skunk, Swallow) | Flicky
Zones
Leaf Forest | Hot Crater | Music Plant | Ice Paradise | Sky Canyon | Techno Base | Egg Utopia | XX | True Area 53 | Special Stages
Bosses
EggHammerTankII | Egg Bomber Tank | Egg Totem | Aero Egg | Egg Saucer | Egg-Go-Round | Egg Frog | Super Eggrobo Z | True Area 53
Enemies
Balloon | Bell | Buzzer | Circus | Flickey | Geji-Geji | Gohla | Hammerhead | Kiki | Koura | Kubinaga | Kura-Kura | Kyura | Madillo | Mon | Mouse | Pen | Piko Piko | Spina | Star | Straw | Yado
Moves/
techniques
Regular moves
Amy Dash | Boost Mode | Bound | Chao Attack | Chao Rolling Attack | Double Spin Attack | Drill Claw | Double Punch | Flying | Hammer Attack | Head Slide | Homing Attack | Jump Dash | Mid-Air Glide | Mid-Air Hammer Swirl | Propeller Flying | Spin Attack | Spin Dash | Spiral Attack | Skid Attack | Step Attack | Super Hammer Attack | Super Skid | Super Sonic Boost | Super Tails Swipe | Tail Swipe | Wall Climb
Mid-Air Trick Actions
Big Air (Happy Spring, Hop Jump, Petit Step, Spiral Upper) | Long Wind Jump (Burning Straight, Humming Top, Sweet Roll, Window Jump) | Stop 'n' Slam (Bound, Drill Claw, Mid-Air Hammer Swirl, Propeller Descent, Soft Bomber) | Quick Reverse (Back Attack, Back Rotor, Back Star, Milky Turn)
Other
Auto Running | Bumper wall | Cannon | Chao Bounce | Chao Search | Chaos Emerald | Corkscrew loop | Dash Panel | Gravity Control Switch | Grind Rail | Gymnastic Bar | Item Box (1-Up, Attack, Brake, Confusion, Invincibility, Magnetic Barrier, Mosaic, Power Sneakers, Shield, Super Ring, Warp) | Pole | Ramp | Ring | Shuttle loop | Special Ring | Rotating platform | Spikes | Spring | Star Post | Time Attack | Time Over | Tiny Chao Garden | Winding Tunnel