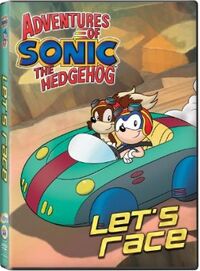 Let's Race is a DVD of Adventures of Sonic the Hedgehog consisting of four episodes, two of which revolve around Sonic's grizzly allies, Da Bears. The DVD is approximately ninety minutes long and is produced by DiC Entertainment and NCircle Entertainment. It was released on 1 June 2010.[1]
Episodes
Extra Features
This disc also contains many sneak peaks of other DiC cartoons including Adventures of Super Mario Bros. 3.
Trivia
The DVD cover depicts artwork resembling the episode The Mobius 5000; however this episode was included.
Sonic and Tails where driving on a DVD cover.
Gallery
References