MEMORY CHALLENGE: Sonic the Hedgehog Edition
Talk

0
Share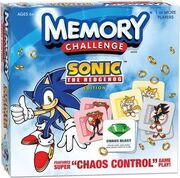 MEMORY CHALLENGE: Sonic the Hedgehog Edition is a memory game with a Sonic twist. The game includes 58 cards depicting characters from the Sonic the Hedgehog series in Sonic Channel-style artwork and fourteen cards depicting Chaos Emeralds and stating directive information. It is available to purchase here for $14.95.
How to Play
The game is played alone, with all 72 cards spread out facedown in a grid pattern. The player completes his or her turn by flipping over only two cards. If the cards have the same image, the player keeps the cards, removing the pair from the playing area. If the cards do not match, however, the player must simply flip the cards facedown again. In the case that the matching cards both depict the same color Chaos Emerald, the player must follow the instructions written on the cards. These instructions range from advantages such as picking more than two cards in a turn to drawbacks such as restarting the game. Once all character cards are matched, the player wins the game.
Gallery
External links
Ad blocker interference detected!
Wikia is a free-to-use site that makes money from advertising. We have a modified experience for viewers using ad blockers

Wikia is not accessible if you've made further modifications. Remove the custom ad blocker rule(s) and the page will load as expected.