A Grasshopper type robot which was also featured in "MARBLE GARDEN ZONE" in "Sonic 3". Since they can suddenly jump without notice, their moves are unpredictable. Be careful not to bump into them.


— Profile, Sonic the Hedgehog 4: Episode II website
The Mantis (マンティス, Mantisu?),[1][2] also known as Hopper (ホッパー, Hoppā?)[3][4] in Japan, is a recurring enemy in the Sonic the Hedgehog series. It is a mass-produced, grasshopper-based Badnik model created by Dr. Eggman that can make rapid leaps while ambushing its target.
Appearance
Despite their name, Mantids resemble and behave more like grasshoppers than mantids. They have green armor with minor silver details such as feelers, mouth plate and pairs of bolts on their legs and heads. Their robotic hind legs are powerful and stretch backwards when preparing to jump.
In Sonic the Hedgehog 4, the Mantises look mostly the same, but with minor changes, like having eyes instead of bolts and longer feelers.
Game appearances
Sonic the Hedgehog 3 & Knuckles

Mantises first appeared in Sonic the Hedgehog 3 and its locked-on version Sonic the Hedgehog 3 & Knuckles. They are found in Marble Garden Zone Act 2 and where they hide in the ground or stand around tricky sections. When the player comes near one, the Mantis leaps on the spot and keeps doing this for as long as the playable character is close to it. When finally moving, it can jump right over the player, making it very easy to avoid. They are easily defeated with the Spin Jump.
Sonic the Hedgehog 4: Episode II
In Sonic the Hedgehog 4: Episode II, Mantises appear as enemies in Sylvania Castle Zone. They behave much like they did in Sonic the Hedgehog 3, although they are slightly less predictable. Some Mantises can also stand on ceilings and will drop down when the player gets close.
Powers and abilities
Mantises have enhanced agility and wallcrawling skills, allowing them to perform rapid leaps in one place and stand on ceilings.
In other media
Sonic the Comic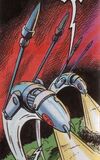 In the Sonic the Comic series published by Fleetway Editions, the Mantises are a part of Dr. Robotnik's Badnik army and are among the third set of Badniks the doctor produced. In this media, they look radically different from their game counterparts and are capable of flight.
Sonic Adventures
In the French Sonic Adventures comic book, Robotnik sents numerous Badniks (including Mantis) on huge chase after Sonic and Tails when they escaped from his spaceship.
Gallery
Artwork
Screenshots
References
---
Main articles (Sonic 3, Sonic & Knuckles, Sonic 3 & Knuckles, Sonic & Knuckles Collection) | Gallery (Sonic 3, Sonic & Knuckles, Sonic & Knuckles Collection) | Beta elements (Sonic 3, Sonic & Knuckles) | Staff (Sonic 3, Sonic & Knuckles, Sonic & Knuckles Collection) | Glitches (Sonic 3, Sonic 3 & Knuckles)
Characters
Sonic (Super Sonic, Hyper Sonic) | Tails (Super Tails) | Knuckles (Super Knuckles, Hyper Knuckles) | Dr. Robotnik | Mecha Sonic (Mecha Sonic's Super State) | Animals (Flicky (Flicky's Super State), Pocky, Pecky, Cucky, Ricky, Rocky)
Badniks
Batbot | Blaster | Blastoid (Carnival Night Zone) | Blastoid (Hydrocity Zone) | Bloominator | Bubbles | Bugernaut | Butterdroid | Catakiller, Jr. | Chainspike | Clamer | Cluckoid | Corkey | Dragonfly | EggRobo | Fireworm | Flybot767 | Hyudoro | Iwamodoki | Jawz | Madmole | Mantis | Mega Chopper | Monkey Dude | Mushmeanie | Orbinaut | Penguinator | Pointdexter | RhinoBot | Ribot | Rock'n | Sandworm | Skorp | Snale Blaster | Spikebonker | Spiker | Star Pointer | TechnoSqueek | Toxomister | Turbo Spiker
Zones
Sonic 3
Angel Island Zone | Hydrocity Zone | Marble Garden Zone | Carnival Night Zone | IceCap Zone | Launch Base Zone | Special Stages | Bonus Stages
Sonic & Knuckles
Mushroom Hill Zone | Flying Battery Zone | Sandopolis Zone | Lava Reef Zone | Hidden Palace Zone | Sky Sanctuary Zone | Death Egg Zone | The Doomsday Zone | Special Stages | Bonus Stages
Competition
Azure Lake Zone | Balloon Park Zone | Chrome Gadget Zone | Desert Palace Zone | Endless Mine Zone
Bosses
Sub-bosses
Doctor Robotnik's Flame Craft | Doctor Robotnik's Whirlpool Machine | Tunnelbot | Self D-Struct Machine | Iceball | Swing'm Spikez | Hei Hou | Gapsule | Barrier Eggman | Guardian | Heat Arms | Egg Mobile-H | Flying Eggman | Red Eye | Death Ball
Zone bosses
Doctor Robotnik's Flame Craft | Doctor Robotnik's Waterspout and Depth Charge Machine | Doctor Robotnik's Jet Drill Pod | Doctor Robotnik's Energy Ship | Doctor Robotnik's Freeze-O-Matic | Ball Shooter | Beam Rocket | Big Arm | Jet Mobile | Hang Mobile | Egg Golem | Hot Mobile | Knuckles | Mecha Sonic | Mecha Sonic's Super State | Great Eggman Robo | The Doomsday Zone
Moves/techniques
Bound Jump | Double Jump | Fireball Spin Dash | Glide | Gliding Knuckles Attack | Hyper Flash | Insta-Shield | Propeller Flying | Spin Jump | Spin Dash | Spin Attack | Wall Climb
Items
Air Bubbles | Balloon | Banana | Bomb | Booster | Bumper | Bumper wall | Cannon | Capsule | Change | Chaos Emerald | Cloud | Continue | Fan | Jump Stand | Monitor (Water Shield, Flame Shield, Invincibility, Lightning Shield, Super Ring, Power Sneakers, Extra Life, S, Eggman) | Movable box | Mushroom | Pulley | Ring | Signpost | Self-Propelled Bomb | Slow-Down Shoes | Snowboard | Sphere | Spikes | Spring | Spinning Top | Star Post (Star Circle) | Super Emerald | Switch | Transport | Vine | Zip Line
Other
Angel Island | Barrel | Blue Knuckles | Conveyor Belt | Corkscrew loop | Crusher | Debug Mode | Fireball Cannon | Flipper | Flywheel | Freeze | Giant spear | Goal | Gravity Control Switch | Gumball | High-speed elevator | High-speed warp tube | Icicle | Jewel Radar | Perfect Bonus | Platform-raising Wheel | Pole Elevator | Relief | Reverse | Ring Shooter | Seesaw | Shuttle loop | Slot Machine | Snowblower | Sonic & Knuckles • Sonic the Hedgehog 3 | Spiked ball | Strange Relief | Time Attack | Tornado | Tunnelbot | Warp Point | Winding Tunnel | Wonderman
---
| | |
| --- | --- |
| Characters | Sonic | Tails | Animals (Flicky, Pocky, Pecky, Cucky, Picky) | Dr. Eggman | Metal Sonic |
| Enemies | Asteron | Balkiry | Batbot | Bubbles | Burrobot | Buzzer | Chop Chop | Chopper | Clucker | Crawl | Flamer | Fullboar | Jaws | Mantis | Moto Bug | Newtron | Orbinaut (Uni Uni, Unidasu) | Sandworm | Scarabesque | Shellcracker | Slicer | Snowy | Spikes | Steelion | Turtloids | Zoomer |
| Episode II Zones | Sylvania Castle Zone | White Park Zone | Oil Desert Zone | Sky Fortress Zone | Death Egg mk.II Zone | Special Stages |
| Episode Metal Acts | Episode Metal Act 1 | Episode Metal Act 2 | Episode Metal Act 3 | Episode Metal Act 4 |
| Bosses | Egg Serpentleaf | Metal Sonic | Egg Scrap Mech | Metal Carrier | Metal Sonic and Egg Mobile | Metal Sonic | Egg Heart |
| Moves/techniques | Copter Combo | Propeller Flying | Homing Attack | Rolling Combo | Spin Attack | Spin Dash | Spin Jump | Submarine Combo | Tornado Boost |
| Objects | Air Bubbles | Bumper | Capsule | Booster | Chaos Emerald | Flipper | Giant Ring | Monitor (Super Ring, Shield, Power Sneakers, Invincibility, Extra Life, Special Combination, Combination Dash) | Ring | Spring | Star Post | Red Star Ring | Spikes | Switch | Signpost | Zip Line |
| Other | Conveyor Belt | Crusher | Death Egg mk.II | Fan | Flip Platform | Little Planet | Level Select | Lost Labyrinth treasure | Platform-raising Wheel | Original Soundtrack (& Episode I) | Strange Relief | Ring Shooter | Stardust Speedway | Shuttle loop | Tails' rocket | Time Attack | Tornado | Totem pole |