This article is about a subject in the real world.
Information in this article is about real-life people, companies, and objects, and does not relate to the in-universe Sonic series.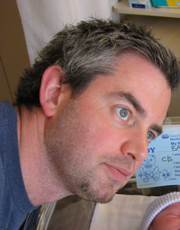 Mark Banker (born April 21, 1973, Milwaukee) is an American writer, actor, story editor and producer who works on the Sonic Boom television series.
Filmography
Television
| Series | Debut | Position |
| --- | --- | --- |
| Adventure Time | 2011 | Writer |
| Battery Park | 2000 | Writer, story editor |
| Be Cool, Scooby-Doo! | 2015 | Writer |
| Beware the Batman | 2014 | writer |
| Clarence | 2014 | Writer, story editor, actor |
| Crank Yankers | 2004 | Segment producer |
| Danny Phantom | 2004 | Writer, executive producer |
| Duck Dodgers | 2005 | Writer, story editor |
| Exchange Student Zero | 2015 | Writer, story editor |
| Scooby-Doo! Moon Monster Madness | 2015 | Writer |
| Monsuno | 2012 | Writer |
| Scooby-Doo! Mystery Incorporated | 2010 | Writer, soundtrack |
| Scooby-Doo! Spooky Games | 2012 | Writer |
| Squirrel Boy | 2006 | Writer |
| The Brak Show | 2003 | Writer |
| The Emperor's New School | 2006 | Writer, story editor |
| The Looney Tunes Show | 2011 | Writer |
| The Osbournes | 2002 | Story editor |
| Space Ghost Coast to Coast | 1997 | Writer |
| Spin City | 2000 | Writer, story editor |
| Sonic Boom | 2014 | Writer |
Films
Credits
Writing
External links