This article is about a subject in the real world.
Information in this article is about real-life people, companies, and objects, and does not relate to the in-universe Sonic series.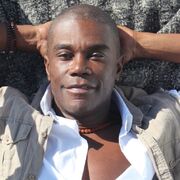 Marlon Saunders is an American singer, songwriter and record producer. He is best known for providing vocals on both versions of Knuckles the Echidna's theme, "Unknown From M.E." in Sonic Adventure (with Dread Foxx) and Sonic Adventure 2 (with Hunnid-P). He also performed a Christmas a cappella version of "Dreams Dreams", the theme from NiGHTS into Dreams, with a small vocal ensemble that can be heard during the ending credits of Christmas NiGHTS as well as on its soundtrack.
Marlon Saunders can also be seen playing Reggae music with a few other men in the Disney film Enchanted, which triggers the beginning of one of the songs in the film.
Trivia
While it is widely believed that Marlon Saunders and Hunnid-P worked together on the song, "Unknown From M.E.", Hunnid-P has stated that he started his vocalizations first, and Saunders finished the song with his vocals on a later date, and neither worked in a recording studio together.[1]
References
External links
Ad blocker interference detected!
Wikia is a free-to-use site that makes money from advertising. We have a modified experience for viewers using ad blockers

Wikia is not accessible if you've made further modifications. Remove the custom ad blocker rule(s) and the page will load as expected.