This article is about a subject in the real world.
Information in this article is about real-life people, companies, and objects, and does not relate to the in-universe Sonic series.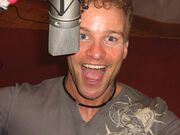 Matthew "Matt" Hill (born in North Vancouver, British Columbia on 19 January 1968) is a Canadian voice actor who provided the voice for Max in Sonic Underground.[2]
Other Roles
He is known for several roles, including Kevin Keene/Captain N in Captain N: The Game Master, Kira Yamato in Gundam Seed and Gundam Seed Destiny, Ed in Ed, Edd n Eddy, Raphael in Ninja Turtles: The Next Mutation, Ryo Sanada in Ronin Warriors and Artha Penn and Dragon Booster in "The Dragon Booster." He is also the voice of the Wonderbolt Soarin' in My Little Pony: Friendship is Magic. He has one of the most youthful and recognized voices in the voice acting community, often cast in teenage roles because of this. His live action role was his portrayal of Raphael in the third Teenage Ninja Turtles movie and Ninja Turtles: The Next Mutation. He also played the deputy in the live-action movie Shanghai Knights.
References
External links
Matt Hill at Wikipedia, the free encyclopedia
Former English Voice Actors
Ad blocker interference detected!
Wikia is a free-to-use site that makes money from advertising. We have a modified experience for viewers using ad blockers

Wikia is not accessible if you've made further modifications. Remove the custom ad blocker rule(s) and the page will load as expected.