Maurice LaMarche
Talk

0
8,293pages on
this wiki
This article is about a subject in the real world.
Information in this article is about real-life people, companies and objects, and does not relate to the in-universe Sonic series.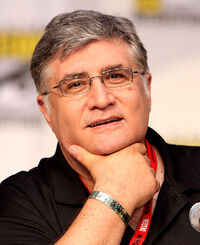 Maurice LaMarche (born on 30 March 1958) is a voice actor who voiced Sleet and other characters in the cartoon series Sonic Underground.
Other roles
LaMarche began on Inspector Gadget and went on to Dennis the Menace, Popeye and Son and The Real Ghostbusters. After The Real Ghostbusters, LaMarche became a regular mainstay of the voiceover industry appearing in such shows as Tiny Toon Adventures, DiC's G.I. Joe, Attack of the Killer Tomatoes: The Animated Series, Taz-Mania, Where's Waldo, The Little Mermaid, Batman: The Animated Series, and Bonkers before landing perhaps his most recognized role in 1993 as The Brain on Animaniacs (and later its spin-off show Pinky and the Brain). Following this, LaMarche worked on The Critic, Freakazoid!, and The Tick before then reprising his role of Egon in Extreme Ghostbusters. The stretch of two years after this saw LaMarche portray characters in such shows as Hey Arnold! as Big Bob Pataki, Queer Duck, and The Chimp Channel. During this time Maurice would become the voice actor for Mortimer Mouse who he would voice in the television series Mickey Mouse Works and Disney's House of Mouse. It was at this time, 1999, that LaMarche began work on Futurama, and since then LaMarche has continued to work steadily in television, including guest roles on The Simpsons (where he once again parodied Orson Welles). His most recent regular role came as Hovis the butler on the Nickelodeon series Catscratch. LaMarche voice of Victor in Playhouse Disney's Handy Manny Halloween episode.
External Links
Former English Voice Actors