Maximum Heat Knuckles Attack
Talk

0
7,447pages on
this wiki
Maximum Heat Knuckles Attack

Knuckles performing the Maximum Heat Knuckles Attack
Statistics and Overview
First appearance
Other appearances
User(s)
Description

A move that attacks all nearby enemies at high speed.
The Maximum Heat Knuckles Attack (マキシマムヒートナックル, Makishimamuhītonakkuru?) is a move used only by Knuckles the Echidna in Sonic Adventure and Sonic Adventure DX: Director's Cut. When using this move, Knuckles can attack several enemies at once at high speed, much like Sonic the Hedgehog's Light Speed Attack. This move can only be performed when Knuckles has the Fighting Gloves.
Description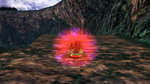 In order to perform the Maximum Heat Knuckles Attack, Knuckles must have obtained the Fighting Gloves upgrade. Once obtained, Knuckles can store up his power which is signified by small purple orbs that starts floating around him, much like the Light Speed Attack. Once enough power has been stored, Knuckles is surrounded in a pulsing red and purple aura. In the gameplay, this is done by holding down the Action button.
Once near one or more enemies, the player must release the Action button. Knuckles will then release the stored power and he will unleash a chain of attacks, where he will
Glide
into all the enemies in the near vicinity at high speed and destroys them, no matter where they are. Just like Light Speed Attack, Knuckles leaves a glowing trail behind him when blasting through the enemies.
If Knuckles falls of a ledge while charging his power (even if the fall is extremely small), gets hit by an enemy or the player releases the Action button in an empty area however, nothing will happen and the charged aura and power will be canceled, which means the player must recharge Knuckles' aura again.
It is recommended to only charge this attack when needing to destroy enemies, as it significantly slows Knuckles' movement down whilst fully charged.
Sonic Adventure

/

Remake

/

DLC

/

Beta Elements

Characters
Sonic | Tails | Knuckles | Amy | E-102 Gamma | Big | Super Sonic | Eggman | Chaos | Froggy | Tikal | Pachacamac | Chao | Metal Sonic* | Cream* | Silver Sonic II* | Chao
E-00 Series
E-01 | Baby Kiki | Rhino-Tank | Sweeper | Leon | Boa-Boa | Spinner | Ice Ball | Kart Kiki | Buyoon | Cop Speeder | Spiky Spinner | Electro Spinner | Ghora | Egg Keeper | Beat | Mecha Fish | Egg Pirate
E-100 Series
Alpha | Beta | Gamma | Delta | Epsilon | Zeta
Locations
Station Square | Angel Island | Egg Carrier | Egg Carrier 2 | Tails' Lab | Mystic Ruins
Action Stages
Emerald Coast | Windy Valley | Casinopolis | IceCap | Sky Chase | Twinkle Park | Speed Highway | Red Mountain | Sky Deck | Lost World | Hot Shelter | Sand Hill | Twinkle Circuit
Bosses
Chaos 0 | Chaos 2 | Chaos 4 | Chaos 6 | E-100 Alpha | E-101 Beta | E-102 Gamma | E-103 Delta | E-104 Epsilon | E-105 Zeta | Egg Carrier | Egg Hornet | Egg Viper | Egg Walker | Perfect Chaos
Moves/Techniques
Auto Running | Climb | Dig | Flight Mode | Propeller Flight | Glide | Hammer Attack | Hammer Jump | Hover | Homing Attack | Homing Missile | Jump Attack | Light Speed Attack | Light Speed Dash | Lightning Bolt | Lure Attack | Maximum Heat Knuckles Attack | Punch Attack | Rapid Tails Attack | Spin Hammer Attack | Spin Dash | Spin Jump | Tails Attack

Ugrades

Ancient Light | Crystal Ring | Fighting Gloves | Jet Anklet | Jet Booster | Laser Blaster | Life Belt | Light Speed Shoes | Long Hammer | Lure | Power Rod | Rhythm Badge | Shovel Claw | Warrior Feather
English Voice Actors
Ryan Drummond (Sonic) | Corey Bringas (Tails) | Michael McGaharn (Knuckles) | Deem Bristow (Eggman) | Jennifer Douillard (Amy) | Jon St. John (Big) | Elara Distler (Tikal, Station Square Train Voice, Default Menu Voice) | Steve Broadie (Gamma, Pachacamac, Mystic Ruins Train Voice) | Tomoko Sasaki (Chao)
Japanese Voice Actors
Jun'ichi Kanemaru (Sonic) | Kazuki Hayashi (Tails) | Nobutoshi Kanna (Knuckles) | Chikao Ōtsuka (Eggman) | Taeko Kawata (Amy) | Shun Yashiro (Big) | Kaori Asō (Tikal) | Jōji Nakata (Gamma) | Tōru Ōkawa (Pachacamac) | Kaho Kōda (Station Square Train Voice) | Nobutoshi Kanna (Mystic Ruins Train Voice) | Elara Distler (Default Menu Voice) | Tomoko Sasaki (Chao)

Original Soundtrack

/

Remix

/

Vocal Mini Album

Believe In Myself | It Doesn't Matter | Lazy Days | My Sweet Passion | Open Your Heart | Unknown from M.E.

Other
Air Bubbles | Bumper | Cannon | Capsule | Chaos Emeralds | Chao in Space | Conveyor Belt | Debug Mode | Emblem | Emerald Shards | Flipper | Gallery | Goal Balloon | Hedgehog Hammer | Item Box (Super Ring, Shield, Lightning Shield, Power Sneakers, Invincibility, Extra Life, Bomb) | Key Stones | Mr. Know-It-All | Pinball Shooter | Rings | Rocket | Sandboard | Shuttle Loop | Sky-Chase Dragon | Slot Machine | Snowboard | Sonic Token | Station Square Police | Target Dolls | Twinkle Circuit Hover Car

Articles that have an "*" by it indicates that the article appears only on the remake of Sonic Adventure, Sonic Adventure DX.