Mazuri
Talk

0
7,425pages on
this wiki
You may be looking for the stage on this continent, Savannah Citadel.

Exotic wild animals are a frequent sight near this village built on reddish-brown soil.

— Description in World Map
Mazuri

The national flag of Mazuri
Background Information
First appearance

Sonic Unleashed
(First and only appearance)

Inspiration
Other Information
Location

Unnamed continent on Earth's southern hemisphere

Inhabitants
Visitors
Final state

Intact
Mazuri (マズーリ, Mazūri?) is the African-based environment in the game Sonic Unleashed. It is based on Africa due to its wildlife environment and animals that live in Africa appear on Mazuri.
Description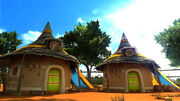 The level is an exaggerated mixture of certain places and aspects from Africa. For example: the sandy buildings of Timbuktu, Mali, the savannas of Africa, and the big baobab trees from Madagascar. The large buildings of sand and mud are actually large representations of mosques (Islamic places of worship). One in particular that Sonic comes across is surprisingly similar to the Djinguereber Mosque.
History
In the daytime level, Sonic starts off in the savanna, goes into a town with a bunch of sandy citadels, then heads into the jungle. Mazuri is the location where Sonic fights the Egg Beetle. In the mobile version of Sonic Unleashed, Mazuri is where the final boss is fought, a Dark Gaia powered Egg Dragoon.
Notable Locations
In the point-and-click map HUB world of the Wii and PS2 version, many of the featured parts of Mazuri are shown. These spots include:
The Hunters Home
The Lookout Tower
Shop
Holy Tree
Sacred Shrine (As Sonic the Werehog)
Appearances in Other Media
Archie Comics
Mazuri is mentioned in the Archie Comics' Sonic the Hedgehog comic book series and spin-offs. In this media, it is a Human/Overlander settlement in Efrika and a city-state of the United Federation.
Music
Trivia
In the Wii/PS2 version of the game, this continent only has one level, which is the Egg Beetle boss.
This continent is named after Masuria, a land in Northern Poland.
Gallery
Concept and Development
Town Stage
Daytime
Nighttime
Entrance Stage