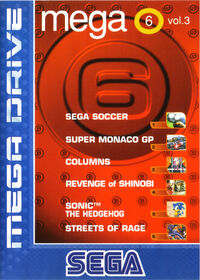 Mega 6 Volume 3 is a compilation of Sega Mega Drive games released in PAL territories during 1995, and was included as part of the console's late official bundles.
Description
The cartridge was the final release in the series of Mega Games compilations, and contains six of Sega's most successful games from the early days of the Genesis. It is the only volume of the Mega Games 6 series to introduce a new game to the Mega Games range, and the only Mega Games release to use the shortened Mega 6 title. The game came with individual instruction manuals for each game rather than integrating them all into a single manual. This compilation utilities the standard game selection screen seen in previous Sega compilation releases, including the Mega Games series, Classic Collection and Sonic Compilation.
Ad blocker interference detected!
Wikia is a free-to-use site that makes money from advertising. We have a modified experience for viewers using ad blockers

Wikia is not accessible if you've made further modifications. Remove the custom ad blocker rule(s) and the page will load as expected.