Metal Sonic (Knuckles' Chaotix)
Talk

0
7,443pages on
this wiki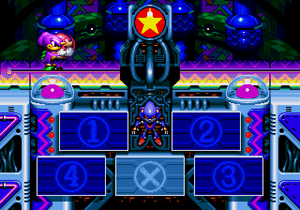 Metal Sonic is the penultimate boss battle in Knuckles' Chaotix and the first phase of the final fight against Metal Sonic.
Description
After the player has completed all the Attractions in the game, Metal Sonic will appear in the Stage Select room and port himself into the stage select machine. The player then has to hit the bumper as they would when they select an attraction to select one of the four numbered panels or the X. Metal Sonic will perform a different attack based on what number is selected:
Two platforms on the far left and far right raise up into spiked walls. Two fin-like objects then raise from the floor and move outwards towards the spiked walls, causing the player damage, before moving back to the center.
A long tentacle emerges from one of the flashing lights on the machine and bounces on the floor in an effort to attack the player. After that, the light on the other side of the screen repeats the process.
A number of rockets fire up from the ground, falling back down and exploding, damaging the player.
Two saw-blades come out of the ground and move across the screen, attempting to damage the player.
Selecting the X destroys one of the numbered panels, removing that attack from Metal Sonic's arsenal. Once all panels are destroyed, Metal Sonic will be defeated and flee. A small cutscene plays and afterwards, the player has to face the final boss.
Knuckles' Chaotix

Characters
Knuckles | Vector | Espio | Charmy | Mighty | Heavy | Bomb | Dr. Eggman* | Metal Sonic (Kai)* | Sonic* | Tails* | Wechnia**
Enemies
Amazing Arena Badnik 1, 2 | Balru | Botanic Base Badnik 1, 2, 3 | Carry | Dribbler | Gotch | Happa | Isolated Island Badnik | Juppun | Mosqui | Nishita | Pata-Bata | Pirani | Techno Tower Badnik 3 | Uniformer | Zakku
Stages
Isolated Island | Botanic Base | Speed Slider | Amazing Arena | Techno Tower | Marina Madness | World Entrance | Special Stage
Bosses
Amazing Arena boss | Amazing Arena sub-boss | Botanic Base boss | Marina Madness boss | Metal Sonic | Metal Sonic Kai | Speed Slider boss | Techno Tower boss
Other
! | Archie Knuckles' Chaotix | Chaos Ring | Combi Catcher | Debug Mode | Dark Ring | Monitors (Super Ring, Combine Ring, Power Sneakers, Shield, Invincible, Swap, Grow, Shrink, Change) | Gallery | Link Rings | Newtrogic High Zone | Rings | Signpost | Sphere

*Not playable **Debug mode only