Metropolitan Highway is the twenty-third stage in Sonic Forces. This stage is set within Metropolis, Dr. Eggman's city.
The stage features multiple skyscrapers and open highways. Various buildings with advanced technology fill the city. It shares the same location as Capital City, and Null Space.
Overview
Metropolitan Highway is located within Metropolis which, compared to its two previous incarnations, appears as a magnificent white city, filled with skyscrapers and brimming with technology.
The stage primarily takes place on the rooftops and highways of the city, with some sections taking place within the buildings themselves.
Story
After the destruction Death Egg, the Resistance Forces launched the attack on Metropolis . Sonic must find Eggman and grab him to allow the Resistance to win. Knuckles and Rouge promise cover support, while Amy leads him toward the doctor.
Gameplay
Description
Gallery
Music
Video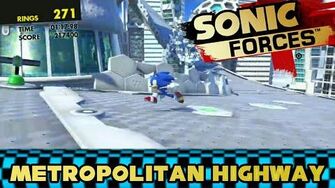 ---
Main article | Gallery
Characters
Playable characters
Sonic | Classic Sonic | Avatar | Shadow (Episode Shadow)
Other characters
Resistance (Tails, Knuckles, Amy, Chaotix (Vector, Espio, Charmy), Silver, Team Dark (Shadow, Rouge, Omega)) | Dr. Eggman | Infinite | Orbot | Cubot | Metal Sonic | Chaos | Zavok
Wisps
Blue Wisp | Green Wisp | Indigo Wisp | Ivory Wisp | Red Wisp | Violet Wisp | White Wisp | Yellow Wisp
Stages

Chemical Plant

Spaceport | Chemical Plant | Network Terminal | Plasma Cannon 1 (Secret Stage) | Bomb Block 2 (Extra Stage)

City

Ghost Town | Park Avenue | Sunset Heights | Red Gate Bridge | Enemy Territory (Episode Shadow) | Vanish Panel 1 (Secret Stage) | Fire Cannon 2 (Extra Stage)

Death Egg

Prison Hall | Egg Gate | Death Egg | Laser Cannon 1 (Secret Stage) | Plasma Cannon 2 (Extra Stage)

Eggman Empire Fortress

Imperial Tower | Mortar Canyon | Iron Fortress | Final Judgement

Green Hill

Lost Valley | Arsenal Pyramid | Green Hill | Guardian Rock | Virtual Reality (Episode Shadow) | Bomb Block 1 (Secret Stage) | Flying Pod (Extra Stage) | Reverse Block 2 (Extra Stage)

Metropolis

Capital City | Metropolitan Highway | Null Space | Reverse Block 1 (Secret Stage) | Laser Cannon 2 (Extra Stage)

Mystic Jungle

Luminous Forest | Casino Forest | Aqua Road | Eggman's Facility (Episode Shadow) | Fire Cannon 1 (Secret Stage) | Vanish Panel 2 (Extra Stage)
Enemies
Aero-Chaser | Buzz Bomber | Chopper | Egg Pawn | Moto Bug | Nebula | Sandworm | Sprinkler
Bosses
Death Egg Robot | Eggman | Egg Dragoon | Infinite | Metal Sonic | Zavok
Moves/techniques
Air Boost | Boost | Crouch | Double Boost | Double Jump | Drop Dash | Grind Step | Grinding | Homing Attack | Quick Step/Cartwheel | Skydiving | Slide | Spin Dash | Spin Jump | Stomp | Triple Boost | Wall Jump | Wire Attack
Gimmicks and obstacles
Balloon | Bumper | Bumper wall | Catapult | Dash Panel | Dash Rail | Dash Ring | Flipper | Flywheel | Goal | Goal Plate | Grind Rail | High-speed warp tube | Hint Ring | List of pinball obstacles | Pinball Shooter | Pulley | Ramp | Rainbow Ring | Ring Shooter | Slot Machine | Spiked ball | Spikes | Spring | Spring Pole | Star Post | Wide Spring | Zip Line
Objects
General
Air Bubbles | Blue Ring | Container | Costume | Medal | Meteorite | Monitors (Invincibility, Power Sneakers, Shield, Super Ring) | Number Ring | Red Star Ring | Ring | Silver Moon Ring | Wisp Capsule
Wispons
Asteroid | Burst | Cube | Drill | Hover | Lightning | Void
OST/Vocal/Hi-Res Collection
Fading World | Fighting Onward | Fist Bump | Infinite | Justice | Moonlight Battlefield | Nowhere to Run | Rhythm And Balance | Set in Motion | Supporting Me | The Light of Hope | Virtual Enemies
Other
Boost Gauge | Chaos Control | Challenge Mission | Daily Mission | Death Crab | Death Egg | Death Egg Robot | Death Egg Robot sentinel | Death Queen | Egg Dragoon | Egg Mobile | Eggman Army | Eggman Empire | Eggman Fleet | Experience | Health Gauge | Jackal Squad | Miles Electric | Operation Big Wave | Phantom Ruby | Real-Time Interaction | Replica | Sandworm | Skills | Sonic Forces digital comic (Moment of Truth, Stress Test, Looming Shadow, Rise of Infinite) | Sonic Forces: Speed Battle | SOS Mission | Time Over | Winding Tunnel | Wisp Gauge