This article is about a subject in the real world.
Information in this article is about real-life people, companies, and objects, and does not relate to the in-universe Sonic series.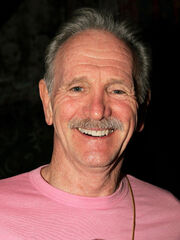 Michael Patrick Bell (born 30 July 1938) is an American actor and voice actor who provided the voice of the sorceror Naugus in the Sonic the Hedgehog television series.[2]
Other Roles
Outside of Sonic the Hedgehog, Michael Bell has worked as a voice actor on numerous animated movies, video games and animated television series. He was also one of the most prolific voice actors of the 1970s and 80s. Some of his most popular roles include Drew Pickles from Rugrats, Medivh from Warcraft, The Fear from Metal Gear Solid 3, Prowl, Scrapper, and Swoop from Transformers, Zan from Superfriends, and Duke from G.I. Joe.
References
External links
Former English Voice Actors