This article is incomplete and in need of attention.

Please follow the guidelines in the Manual of Style and help the Sonic News Network by expanding this article. Remove this message when finished.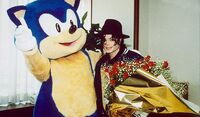 Michael Joseph Jackson (August 29, 1958 – June 25, 2009) was an American singer, songwriter, dancer, producer, and actor. Often referred to as the King of Pop, he has made a huge contribution to music, and had become a worldwide icon. His 1982 album, Thriller, is the best selling album of all time.
After many of years of rumors and speculation, it was confirmed in 2009, by Brad Buxer, a composer and close friend of Jackson, that he did in fact work on the soundtrack for the 1994 video game, Sonic the Hedgehog 3. He revealed that he and Jackson had worked on some tracks for the game, but due to the hardware limitations of the Sega Genesis, he did not want to be credited.[1] He also confirmed that the beat in the credits theme for Sonic 3 was reused for Jackson's song, Stranger in Moscow.
An interesting sidenote, Yuji Naka, the creator of Sonic the Hedgehog has stated in an interview that Sonic's shoes were inspired by the cover of Jackson's 1987 album, Bad.
Other work with Sega
Before working on the soundtrack for Sonic 3, Jackson had teamed up with Sega in 1989 to create a game entitled Michael Jackson's Moonwalker, inspired by the film of the same name. Jackson has also appeared in the Space Channel 5 series, appearing as one of the series' main supporting characters, Space Michael.
Gallery
References