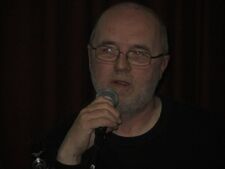 Mick McMahon was an artist for Sonic the Comic and one of the longest-lasting, only ending his duties to allow Richard Elson to have sole reign on the artwork.
Career
McMahon is also one of the last "regular" contributors to begin working for STC, his first story being in Issue 97. McMahon primarily took on Sonic the Hedgehog strips written by Lew Stringer and were all inconsequential complete stories. He also drew several of the later Decap Attack strips and was brought in to the comic by Nigel Kitching, despite knowing that giving McMahon Decap to draw would lower his wages. Unfortunately, his work is seen as a major divider of fan opinion, with people often disliking McMahon's handling of Sonic characters. His Decap work has been seen more favourably.
External links
Ad blocker interference detected!
Wikia is a free-to-use site that makes money from advertising. We have a modified experience for viewers using ad blockers

Wikia is not accessible if you've made further modifications. Remove the custom ad blocker rule(s) and the page will load as expected.