Mike Pollock
Talk

0
7,394pages on
this wiki
This article is about a subject in the real world.
Information in this article is about real-life people, companies and objects, and does not relate to the in-universe Sonic series.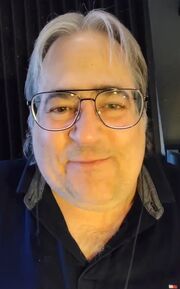 Michael B. "Mike" Pollock (born 9 March 1965, New York), sometimes credited as Herb Lawrence, is an American voice actor who has worked on many English dubs by 4Kids Entertainment. He is most notable for being the voice of Dr. Eggman in Sonic X and in the video games since Shadow the Hedgehog. The decision to replace the video game cast was actually made shortly before Deem Bristow's death, although Sonic Adventure 2 voice clips are re-used in Eggman's playable appearances in Sonic Riders and Sonic Riders: Zero Gravity.
Voice Acting Career
He is the only English-language voice actor who wasn't replaced in 2010. It was revealed by Pollock in a chat session on November 16 that SEGA had held auditions for Eggman but decided to keep him because none of the other voice actors who auditioned fit Eggman well.
He also voiced Ella and Gerald Robotnik in Sonic X and reprised the latter role for Shadow the Hedgehog. He also voices Eggman Nega.
Reception
Mike Pollock's voice of Dr. Eggman is likely the most popular voice work ever in the Sonic franchise, possibly over Ryan Drummond. There has been very little criticism of any of his performances, as even Sega agreed he was the best one for the job and didn't replace him in 2010 when they did everyone else for Sonic Colors, being the only English voice actor who was not replaced.
Trivia
During an interview, by request, Mike recited two famous lines from Adventures of Sonic the Hedgehog, the lines being "I hate that hedgehog" and "SnooPING AS usual, I see".[1]
Mike attended Sonicon in 2010, along with Jason Griffith, Lisa Ortiz, and Pete Capella.

When a fan asked the panel if any of them ever used their character voices in real life, Mike replied that he went to a carnival in New Jersey and saw some Sonic plushes as a prize at an arcade game. When a little kid went up to win one, Mike screamed in Eggman's voice "Look! It's Sonic!"

During a chat in 2009, Pollock revealed that SEGA was involved with the casting of Sonic X, claiming that they would record their voices during the audition and send it to Sonic Team and SEGA of Japan to see which voices sounded the best.
The name "Herb Lawrence" is a tribute to his late father, Herbert Lawrence Pollock.[2]
References