This exists primarily or exclusively within the Pre-Super Genesis Wave continuity.
Information in this article may not be canonical to the storyline of the games or any other Sonic continuity.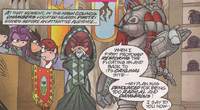 Mitre is the title given to an Echidna spiritual leader.
History
In Echidnaopolis politics, the Mitre holds the highest position of power in the High Council of Echidnaopolis, and under him are the High Councillors. The Lost Tribe also had a Mitre as the group leader, with the position originally held by Arakkis and passed down through the generations to Himon, Athair and Knuckles. (StH: #108, KtE: #11)
Mitre Kali-Ca presided at Knuckles' funeral.[1]
The Mitre in Knuckles' times was involved in negotiations with Dimitri in hopes of reunifying the Dark Legion and Echidnaopolis. He, Dimitri, or both may have been the targets of an assassination planned by Lien-Da but thwarted by Knuckles.
Trivia
A mitre is the ceremonial headgear of bishops and other clergy in various Christian churches.
References
External links
Ad blocker interference detected!
Wikia is a free-to-use site that makes money from advertising. We have a modified experience for viewers using ad blockers

Wikia is not accessible if you've made further modifications. Remove the custom ad blocker rule(s) and the page will load as expected.