Rat
Talk

6
6,674pages on
this wiki
Redirected from Mouse
This article's name is conjectural.
Although this article is based on official information, the actual name of the article's subject is pure conjecture.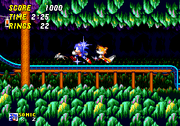 The rat only appears in the 16-bit version of Sonic the Hedgehog 2 as one of Sonic the Hedgehog's animal friends.
Description
Edit
The rat, along with other animal friends, gets kidnapped by Doctor Robotnik and becomes a power source of his Badniks. It only appears in Mystic Cave Zone and can be seen hopping away from destroyed badniks or the opened Egg Capsule.
The rat is the only animal friend from the Mega Drive-era games (up to Sonic & Knuckles) that was not given an official name in either the Western or Japanese manuals. However, a similar rat made a minor cameo appearance in the Adventures of Sonic the Hedgehog episode "Momma Robotnik's Birthday".