Musta Been a Beautiful Baby
Talk

0
6,680pages on
this wiki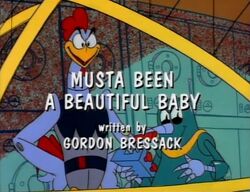 "Musta Been A Beautiful Baby" is a twenty-eighth episode of Adventures of Sonic the Hedgehog.
Written by Gordon Bressack.
Characters
Edit
Miss Saccharine (First appearance)
Elephant Girls (First appearance)
2 lab rats (First and only appearance)
Ice Cream man
A Dog
Locations
Edit
Laundry Room
Instant Food Factory
Day-Care Center
The episode begins in the Laundry room, Scratch and Grounder have captured Sonic and Tails and have thrown them in the gyro-sphere which spins them around like a dryer. Sonic and Tails escape but the static has built up onto their body so clothes start to stick to them. Scratch and Grounder begin to use the Automatic-Static-Schmatic Beam, but Sonic gets it to backfire on them. The blue hero then uses a giant Slingshot to fire them out the door.
At Dr. Robotnik's Lair, Dr. Robotnik is very angry that he hasn't caught Sonic for over so many years and he will some day be too old to catch him. Scratch and Grounder tell Robotnik that Sonic will get older as well and will be easier for them to catch. The thought of Sonic becoming old gives Robotnik an idea to age Sonic prematurely so as to capture him easily. The evil genius creates a device known to be called The Decrepitizer which fires a ray that will age anybody and anything (either younger or older).
Meanwhile Sonic and Tails have decided to be food tasters for the Instant Food Factory. While they are busy eating the instant food, Scratch and Grounder appear and use the Decrepitizer to age Sonic and Tails. Grounder fires the Decrepitizer but pushes the wrong button which turns Sonic and Tails into babies. Scratch and Grounder begin to argue about what happened but as they argue Baby Tails plays with the Decrepit-izer and hits it against the table like a hammer. Baby Sonic wants to fix it, but Grounder grabs it from him so Sonic begins to cry. Scratch tells Grounder to give it to Sonic just to make him stop crying. Sonic starts mangles the machine a bit, but it still works. Robotnik enters the factory and decides to give the badniks abother chance by allowing them to fire on Sonic and Tails while they are napping. Grounder accidentally fires the Decrepit-izer ray at Dr. Robotnik and he becomes a toddler.
Sonic and Tails wake up and see Baby Robotnik crying out of frustration, but they want to be friends with him. Robotnik refuses to be their friend and begins to threaten them. Sonic and Tails begin to run away from Robotnik and he chases them into the city until they come across an ice cream parlor and see a man scooping ice cream, and Sonic, Tails, and Robotnik began to cry. Fortunately, their tears were heard by Miss Saccharine, who takes them to the Day Care Center.
Scratch and Grounder try to get Robotnik back from the Day-Care Center just to reverse the aging ray. In Day-Care, Robotnik plans to terminate Sonic and Tails by setting up traps for them but instead they backfire on him. Robotnik's 'last' trap is to get Sonic's hands stuck in a rope that is tied to a car. Sonic wraps the ropes around Robotnik's wrists just before the car drives off. Robotnik gets dragged through a lot of hazards and eventually pulled out of the Day-Care Center. Once out of the Day-Care Center, Scratch and Grounder use the Decrepit-izer and turn Robotnik back to normal.
Robotnik returns to the Day-care Center to get baby Sonic and Tails. As Robotnik holds them up Scratch and Grounder use the Decrepit-izing Ray to shoot the two heroes in attempts to make them old men. Miss Saccharine grabs the Decrepit-izer away from the badniks to keep her Day-care safe. The rays bounce off a mirror and hit Robotnik. Sonic and Tails (now back to normal) escape. Scratch and Grounder look to see Robotnik is now an old man. He says, "I hate that hedgehog..." then falls asleep.
Sonic warns kids about the dangers of climbing in a dryer.
Robotnik: [crying while pulling the days from the calender] I'll be an old man.
Scratch: So will Sonic.
Grounder: Yeah, he'll be easier to be catch then.
Robotnik: That's idiotic... oh... Why it's perfect. Perfect! You're stupidity has finally payed off.
Scratch: I'm stupider then he is.
Grounder: [pushes Scratch] No he's not, I am.
Female Rat: [after being hit by the Decrepitizer ray] 4,062 grandchildren and not one comes to visit.
Sonic: Let's go Tails, it's Happy Trails.
Tails: Just one little sip of water. [drinks some water] Uh oh! [belly starts expanding]
Sonic: [looks at Tails] It must've been something you ate. [Sees Scratch and Grounder] Uh oh! Here comes Tweedle Dumb and Tweedle Dumber. [Grabs Tails's arm] Let's race ace. [Run away]
Sonic: [gets hit with the Decrepitizer ray] Whoa, what's with the moonlighting!? [turns into a baby] That tickles...I gotta go potty. [speeds off]
Baby Tails: Goo goo poo poo.
Baby Sonic: Hey mister I'm really good at fixing things, really mister, okay, mister? Can I, huh? can I?
Grounder: No you little brat. [grabs the broken Decrepitizer from Sonic] Give me that!
Baby Sonic: [crying] I'll tell my mommy! (sobbing loudly)
Scratch: Let the kid fix it. ANYTHING to stop that racket!
[gives baby Sonic the broken Decrepitizer as he'd stop crying]
Baby Sonic: [smirks] Suckers.
Scratch: What was that?
Baby Sonic: [innocent-like] Thank you, mister chicken-robot man!
Robotnik: I'm here to claim my children, I've been quite frantic...
Baby Sonic: We want ice cream!
Baby Sonic and Robotnik: We want ice cream!
Baby Tails: Ice cream!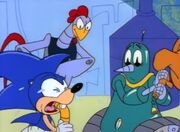 This is the second appearance of Baby Tails, the first being "Tails' New Home". In this episode, however, Baby Tails is portrayed as always either sticking out his tongue or sucking his thumb.
This is the second appearance of Baby Robotnik, the first being "Momma Robotnik's Birthday", though he looked much different in that episode.
Aside from becoming a baby, Sonic does not wear any costumes in this episode.
In the Sonic Says segment for this episode, Sonic and Tails show a small clip from the begining of the episode.
Baby Sonic and baby Robotnik can speak full sentences, despite being babies.
This is one of the rare times when Scratch falls apart. Another episode where this happens is "Road Hog".
Miss Saccharine saves the day in this episode, not Sonic.
The 2 lab rats make a cameo appearance in "Sonic the Matchmaker", on Breezie's talk show.
While Robotnik sat on the stool sobbing and ripping date pages off the calender, but when he stop at 13 the rip edges disappear.
When the two rats are chasing each other running to the left, the boy rat was on the first line and the girl rat is on the last line. But when Robotnik zaps them, turning them old, the old girl rat is on the first line and the old boy rat is on the last line.
When the camera turn to the right while the kids were playing outside right at Baby Robotnik who was holding a rope, his eyes were tan instead black.
Available on DVDs
Edit