This article is about a real-life person.

Information in this article is about real-life people, companies, and objects, and does not relate to the in-universe Sonic series.
Naoto Ohshima (大島 直人, Ōshima Naoto?) is a Japanese national and former Sega employee who designed the characters of Sonic the Hedgehog and Dr. Eggman (Doctor Robotnik). However, Yuji Naka often gets the credit for his work on the Sonic series, because of his close association with the Sonic name. Ohshima gained renown at Sega's Sonic Team for creating characters and playing integral roles in the development of games like Phantasy Star, Sonic the Hedgehog CD, NiGHTS into Dreams..., and Sonic Adventure.
After leaving Sonic Team, he formed an independent game company called Artoon, and later Arzest, of which he is currently president. There he went on to work on such games as Pinobee, Blinx: The Time Sweeper, and in 2004, Blinx 2: Masters of Time & Space.
He is occasionally credited under the nickname "Big Island", which is a literal translation of his family name.
Production history
Credits
Character design
Direction
Production
Special thanks
Trivia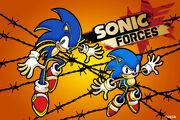 External links