Nazo
Talk

101
7,425pages on
this wiki

This article's name is conjectural.
Although this article is based on official information, the actual name of the article's subject is pure conjecture.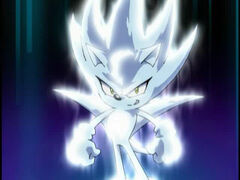 Nazo is a mysterious blue-gray glowing hedgehog that appears in this picture from an early trailer for Sonic X. [1] The image also appeared on Sega's Japanese website and was entitled Nazo.jpg, so it was assumed by some that Nazo was to be his name. This is, however, questionable, because the word "nazo" means "mystery" in Japanese. He has not appeared in the actual show and Sega has given no more information about him, so much debate has followed about who he was to be. Many assume that he was to be a villain, but there is nothing to support this but one's interpretation of the image. Nazo bears little resemblance to any of the characters and has spikes that branch from both sides of his back.

References