Mother Wisp
Talk

0
6,677pages on
this wiki
Mother Wisp (マザーウィスプ, mazāu~isupu?) , initially known as Nega-Mother Wisp (ダークマザーウィスプ, Dākumazāu~isupu?, lit' "Dark Mother Wisp"), is the secret final boss in the DS version of the game Sonic Colors.
She is actually Yacker's mother who was mind-controlled by Dr. Eggman and turned into a Nega Wisp. However, Eggman was unable to control her and she managed to escape. After beating Dr. Eggman, she appears, ready to begin her rampage, but Yacker tells Sonic to stop his mother. Sonic agrees and turns into Super Sonic to fight her.
When Sonic defeats her, she returns to her original form. Sonic finds out that she is not only Yacker's mother but also the mother of all Wisps and she created Planet Wisp. She thanks Sonic and the Wisps head back home.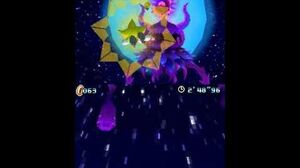 In the first phase of the boss, Sonic appears on the lower screen and has to avoid balls of energy fired from Mother Wisp's mouth which slow him down significantly. Mother Wisp then unleashes several energy-based swiping attacks with her tentacles, which Sonic must avoid. The purple balls of energy are a hindrance here, as they slow Sonic's dodges. Meanwhile, Sonic must Boost into the asteroids that are floating around nearby and hit them at Mother Wisp. If they hit one of Mother Wisp's hands, she will be damaged. After Sonic does this twice, the second phase will start. Sonic begins to Boost toward Mother Wisp at full speed, and he must avoid the purple and red energy balls that Mother Wisp spits. The red ones knock Sonic back, and the purple ones slow him down as before. He must also dodge a giant eye-beam that the Mother Wisp fires. Once Sonic gets close enough, he gets one chance to Boost into Mother Wisp's eye. If he misses, he must start over from the beginning of Phase 1. If he hits his target, Mother Wisp will be severely damaged and two of the petals surrounding her eye will be knocked off. Sonic must do this three times in total to defeat Mother Wisp. The screen doesn't tell the player how many times he has hit Mother Wisp directly, but he can find out based of of the number of petals remaining.
Concept Art
Edit
Aside from various special stages, Nega Mother Wisp is the first time that a fully controllable 3D section has been implemented in a handheld game. This later returned in Sonic Generations (3DS) where the modern part of the Time Eater fight was fully controllable.
The fight with Mother Wisp is very similar to the fight with Perfect Dark Gaia in Sonic Unleashed.
While most wisps resemble octopi or squid, the Mother Wisp is the only wisp to resemble a jellyfish.