Never Lake
Talk

0
6,677pages on
this wiki
Never Lake is the beautiful natural landscape where the Little Planet appears in the skies of Earth (Mobius in other continuities) for one month out of every year. A giant chain leads from a rock formation by the Lake up to the Little Planet. It appeared in the backstory for Sonic CD. After giant chain gets cut by Sonic in the good ending of game, the Little Planet gets free from Robotnik's control and disappears above the Never Lake.
Appearances in Other Media
Edit
Sonic the ComicEdit
Never Lake appeared in the UK's Sonic the Comic, much as it does in the games universe. When Amy Rose was kidnapped by Metallix, she was taken to Never Lake. This was the site of Sonic's first battle with the Metallix robot.[1]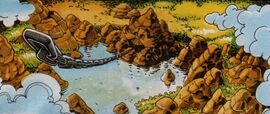 Later, Chaotix arrived at Never Lake (travelling from the Special Zone by means of the Omni-Viewer) to investigate the activity of the Brotherhood of Metallix on the Miracle Planet. They destroyed a Trooper patrol and also met up with Sonic and Porker Lewis[2] (although Porker was in fact a Metallix robot in disguise[3]).
In this continuity, there are no Star Posts at Never Lake, meaning that instantaneous travel there is not possible.[1]
Archie ComicsEdit
The Never Lake in the Archie's Sonic the Hedgehog comics is located in the Kingdom of Mercia. This is where Silver the Hedgehog (in his first appearance) Rob O' the Hedge and his family and asked them about the whereabouts of Sonic the Hedgehog.
On the Sonic Universe Blog on the official Archie Comics website, it mentioned that Never Lake and the Time Stones have been shown but never the time travelling part in Sonic the Hedgehog 25. They also said the answers lie in the future, hinting that Never Lake may return, and to an extent,the Little Planet.
References
Edit
↑ 1.0 1.1 Sonic the Comic #26, "The Sonic Terminator, Part 3"
↑ Sonic the Comic #67, "The Return of Chaotix, Part 1"
↑ Sonic the Comic #68, "The Return of Chaotix, Part 2"