Nintendo 3DS
Talk

5
8,532pages on
this wiki
This article is about a subject in the real world.
Information in this article is about real-life people, companies and objects, and does not relate to the in-universe Sonic series.
The Nintendo 3DS is a handheld game system by Nintendo that was released on 26 February 2011 in Japan and on 27 March 2011 in North America and Europe. The 3DS is the successor to the Nintendo DS and is the first ever system to fully integrate stereoscopic 3D graphics. To do this, the system uses a technique known as autostereoscopy, which involves rendering two separate images, one for each eye. This allows the top screen to present a sense of depth but the 3D is adjustable. Note that the bottom screen is not a 3D screen.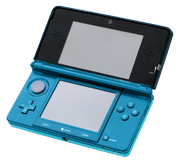 The 3DS is also compatible with the entire backlog of DS games. All Sonic the Hedgehog games released on the DS can also be played on the 3DS. The cards for the 3DS have a bump on the right side in order to avoid them being inserted into a regular DS system.
List of Sonic games on the Nintendo 3DS
Upcoming Games
Virtual Console
The 3DS allows players to download old games onto their system via the eShop's Virtual Console service, similar to the corresponding service on the Wii U. Like the console version, the 3DS version includes games from non-Nintendo systems. Several Game Gear games are available internationally.
Game Gear games on the Virtual Console come with more features than other Virtual Console games. In addition to Restore Points (save states), users can select whether the display fits the screen as a square, stretches to fill the screen, or is surrounded by a detailed, 3D Game Gear border. The latter comes in three colors: red, blue, or black. Screen blurring is an option that emulates the original screen if chosen. Even game performance can be altered between "original" and "special" (original accurately emulates slowdown and special fixes the slowdown issues of the original games).
List of Sonic Games on Virtual Console
Nintendo 2DS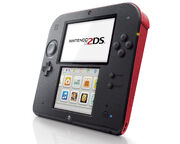 On 12 October 2013 in North America and in the PAL Regions, the Nintendo 2DS was released. The 2DS is fully compatible with all 3DS and DS games but does not include the ability to display games in 3D. It still features all the functionality of 3DS and can be put to sleep using a slider that replicates closing the clamshell on a standard 3DS. WiFi can still be turned off, though it's done via controls in the software rather than with a physical switch. When it was released a red model and a blue model were sold at US$129.99 alongside the 3DS and 3DS XL. [1]
References