This article is about a subject in the real world.
Information in this article is about real-life people, companies, and objects, and does not relate to the in-universe Sonic series.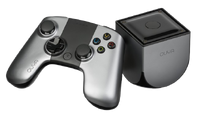 The Ouya, stylized OUYA, is a video game console running its own version of the Android operating system. Over 1224 games are currently available to play on the system.
Company History
Julie Uhrman, a game industry veteran, founded the project in 2012. She brought in designer Yves Béhar to collaborate on the design of the project, and Muffi Ghadiali as product manager to put together the engineering team. Development was funded via Kickstarter, raising $8.5 million and becoming the website's second-highest-earning project in its history. Units started to ship to Kickstarter backers on March 28, 2013. After some delay the console was released to the general public on June 25, 2013 but still many backers of the Kickstarter campaign have not received their consoles or the extra controllers.
Games
Sonic the Hedgehog (Sideloaded)
Sonic the Hedgehog 2 (Sideloaded)
External links
Ouya at Wikipedia, the free encyclopedia
Ad blocker interference detected!
Wikia is a free-to-use site that makes money from advertising. We have a modified experience for viewers using ad blockers

Wikia is not accessible if you've made further modifications. Remove the custom ad blocker rule(s) and the page will load as expected.