Ad blocker interference detected!
Wikia is a free-to-use site that makes money from advertising. We have a modified experience for viewers using ad blockers

Wikia is not accessible if you've made further modifications. Remove the custom ad blocker rule(s) and the page will load as expected.
This article is about a subject in the real world.
Information in this article is about real-life people, companies, and objects, and does not relate to the in-universe Sonic series.
The PlayStation 2 is a video game console made by Sony in 2000, and seven Sonic the Hedgehog series games were available for the system (including three from Sega featuring Sonic). It's referred to as PS2 for short. Its successor was the PlayStation 3 and its predecessor was the PlayStation, for which no Sonic games were released (Sega was still manufacturing their own consoles at the time).
Sonic game list
Sonic games
Sega Games featuring Sonic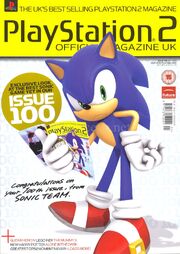 Characters Introduced
Box artwork gallery
Trivia
External links